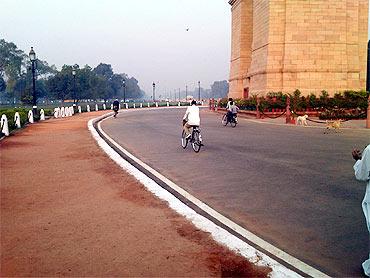 In the run up to the second anniversary of the horrific Mumbai terror attacks of November 26, the father of National Security Guard commando Major Sandeep Unnikrishnan, who died battling terrorists at the Taj Mahal hotel, has begun a nearly 2000-km journey from Delhi to Mumbai to pay homage to the 26/11 martyrs. Vicky Nanjappa meets the man

The father of 26/11 martyr, National Security Guard commando Major Sandeep Unnikrishnan, has embarked upon a unique journey – a bicycle ride from India Gate in New Delhi to the Gateway of India, Mumbai. K Unnikrishnan (60) will be accompanied on this journey by cycling enthusiast Hiralal are expected to reach Mumbai on November 26, 2010 – the second anniversary of the horrific terror attacks.

"This is not a ride for my son alone, who lost his life two years ago at the Taj Mahal Hotel. This is for all the martyrs who lost their lives during that terrible attack in Mumbai two years ago. I had said earlier too that not many remember the martyrs of the 1971 war and I don't want the same thing happening in case of the 26/11 attacks. This ride is just a way of telling people that the men who laid down their lives should never be forgotten," said Unnikrishnan.

The two will begin their journey after prayers before the India Gate. They said they hoped to cycle at least seven hours a day and cover nearly 100 kilometres. "We do not have any fixed schedule. We begin the day early at around 6 am and cycle continuously till around 10 am. Then a break and our journey begins at 3 pm and winds up by 7 pm. The schedule could vary if we feel we have not covered the requisite distance," said Unnikrishnan, who will reach Agra, Thursday evening.

He adds, "We have carried dry fruits and grapes with us; rotis constitute my main diet. We are carrying mineral water with us as well. My wife is also part of this exercise -- she follows us on a four-wheeler and is a major source of strength for me. I will not tire out during the ride because cycling has always been a passion for me."

The idea to embark on such a journey was floated by Hiralal who hails from Kanyakumari. "He had said that we should do something for the martyrs and I was keen to oblige. Hiralal is an experienced cyclist and having him by my side has been a major help and inspiration," says Unnikrishnan.

This ride will include other activities as well – interactions with school children and people from the villages. "We will tell them the importance of remembering our martyrs. The general feeling is that this country is going to pieces and we want to tell people not to lose hope. There is a need to instill faith and confidence in the people about our country.

"And my aim is not to speak about my son or joining the army. I believe that the decision to join the army should never be influenced upon anyone. As regards to my son, I will speak about him only if someone asks me to. We also plan on planting several saplings along the way," said Unnikrishnan.

On November 27, Sandeep's father will make his tryst with destiny – at the Taj Mahal hotel -- the same spot where Sandeep laid down his life.