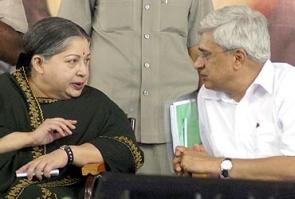 Miffed over the ruling All India Anna Dravida Munnetra Kazhagam's "approach" towards finalising a seat-sharing agreement for the Lok Sabha polls in Tamil Nadu, the Communist Party of India - Marxist and the Communist Party of India on Thursday called off their month-old alliance with the Jayalalithaa-led party.
The leaders of the two Left parties went into a huddle in Chennai in the wake of the dilly dallying by AIADMK to reach a consensus on the seat allotment issue and decided to end the poll pact and fight the election "together".
In a joint statement, CPI-M and CPI state secretaries G Ramakrishnan and D Pandian respectively said several rounds of seat-sharing talks with their senior partner had yielded no results.
The statement said the Left parties had aligned with the AIADMK to fight the elections to combat the alliances led by the Congress and the BJP.
"There was no agreement on the seat-sharing despite many rounds of talks due to the AIADMK's approach. Further, with the party having announced candidates for all 40 seats and going ahead with the election campaign, CPI and CPI-M have decided to face the Lok Sabha polls together," it said.
Ramakrishnan repeated his claim that the AIADMK was not prepared to come to an 'amicable solution' even after six rounds of talks.
Later, leaders of the respective parties held talks before calling off their ties with the AIADMK.
The Left parties and the AIADMK had earlier fought the 2009 parliamentary polls and the 2011 assembly elections from a common platform.
Image: AIADMK chief Jayalalithaa with CPI-M leader Prakash Karat