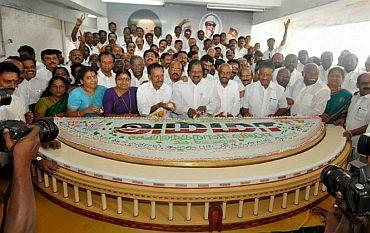 All India Anna Dravida Munnetra Kazhagam chief J Jayalalithaa, who is eyeing a larger role for herself in the national politics after Lok Sabha polls, was on Monday presented a cake resembling Parliament by her party colleagues on her 66th birthday.
The party head office on Avvai Shanmugam Salai was busy since morning as the cadres were preparing for their 'Puratchi Thalaivi' or leader's visit on her birthday.
Soon after she entered the office, All India MGR Mandram and Puratchi Thalaivi Amma Peravai of the party presented the cake and cut it. The D-shaped cake resembling Parliament weighed 66 kg to mark Jayalalithaa's 66th birthday.
Hoping for a bigger role for their leader in Lok Sabha polls, AIADMK cadres projected Jayalalithaa as a Prime Ministerial candidate.
Putting her partymen into poll mode on her birthday, the AIADMK General Secretary named the party's candidates for the 40 Lok Sabha seats -- 39 in Tamil Nadu and the lone Puducherry constituency.
Prime Minister Manmohan Singh, Gujarat Chief Minister and BJP's Prime Ministerial candidate Narendra Modi, Tamil Nadu Governor K Rosaiah, CPI leader D Raja, CPI-M's state leader G Ramakrishnan and Telegu Desam's Chandrababu Naidu were among those who greeted Jayalalithaa on her birthday.
Prayers and welfare activities also marked the birthday of 'Amma' (Mother) as she is fondly addressed by partymen, while microphones in street-corners played popular film songs of Jayalalithaa opposite her mentor, the charismatic M G Ramachandran, both yesteryear actors who made successful political careers.
Tamil Nadu Music and Fine Arts University launched a 66-hour music and art festival starting on Monday to commemorate her birthday.
Jayalalithaa started her career as a Rajya Sabha MP after being introduced to politics by Ramachandran. She later consolidated her position in the party and went on to capture power for the first time in 1991.

In the neighbouring Union Territory of Puducherry, the celebrations were marked by distribution of garments to the poor, besides cycle rickshaws, sewing machines, household utensils and several other commodities under the party's welfare schemes covering 6,600 beneficiaries.