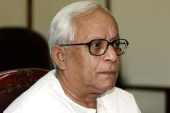 The gherao of West Bengal Chief Minister Mamata Banerjee and her Finance Minister Amit Mitra in Delhi on Tuesday by Communist Party of India-Marxist supporters was condemned unequivocally by political parties including the rival Marxist party, which said it was "undesirable".
CPI-M veteran and Banerjee's predecessor Buddhadeb Bhattacharjee wondered what kind of politics it is that led to the action of the activists of the party's students' wing in targeting the Trinamool leadership.
"I strongly condemn the incident. I wonder what kind of politics it is. This is a wrong politics," he said in a statement, adding nobody would support the incident "which is condemnable".
In Kolkata, Trinamool Congress workers sat on a protest under Mahatma Gandhi's statue demanding an inquiry into the heckling incident "We will observe condemnation day across the state on Wednesday," party's secretary-general Partha Chatterjee told reporters.
Trinamool Parliamentary Party leader Sudip Bandopadhyay told PTI that it would stall Parliament proceedings when it reconvenes again on April 22 to ask the government how the incident was allowed to occur in a high security zone in Delhi.

"When Parliament session resumes on April 22, we will seek an answer from the government as to how such an attack could take place in the heart of the capital, a high security zone. We will stall the House from the very first day, on all days," he said
CPI-M politburo member Suryakanta Mishra called for maintaining peace and harmony. "We condemn the incident unequivocally and I request our party workers not to get provoked and call for maintaining peace and harmony," Mishra said, adding he had received reports claiming that the CPI-M party offices at Hooghly and Bankura districts had already been either gheraoed or ransacked and a leader was assaulted.
Mishra, who is also leader of the opposition in the West Bengal assembly, urged the state government to ensure that the Delhi incident had no impact in the state.
Congress leader Shakeel Ahmed, who is in-charge of West Bengal, said nobody has the right to take the law into their hands. "Obstructing leaders physically is not good."
CPI leader Atul Kumar Anjaan said he "disapproved" of the way the protest was carried out but castigated the Trinamool government in West Bengal for the death of Student's Federation of India activist Sudipto Gupta.