Leaving boundaries of their respective parties, political leaders on Wednesday bid an emotional goodbye to former prime minister Atal Bihari Vajpayee describing him as a visionary statesman with acceptability across a diverse ideological spectrum.
Vajpayee, who was 93, died at AIIMS after a prolonged illness.
Several leaders saw a personal loss in death of Vajpayee, one of India's most respected leaders who led the nation through several crises and held together a tenuous coalition with his inclusive politics.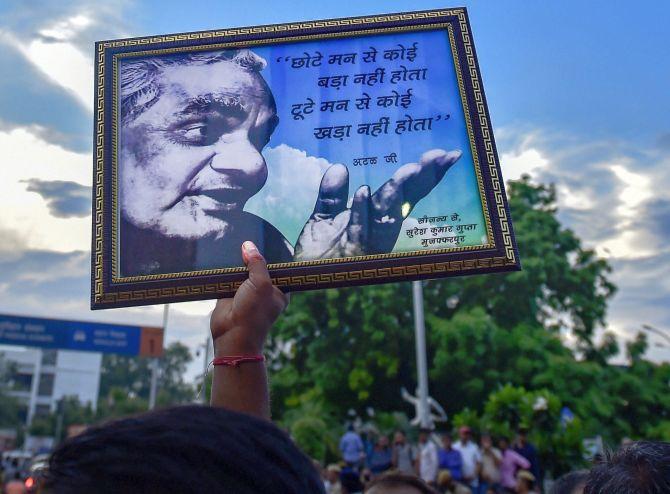 Extremely sad to hear of the passing of Shri Atal Bihari Vajpayee. His leadership, foresight, maturity and eloquence put him in a league of his own. Atalji, the Gentle Giant, will be missed by one and all
- Ram Nath Kovind, President
I visited him this morning but didn't imagine that the end will come so soon. He is, undoubtedly, one of the tallest leaders in post- independence India. He will be remembered for ushering in the connectivity revolution in the country. His personality, oratory, devotion to duty and friendliness all combined in his remarkable leadership will be remembered for a along time to come
- M Venkaiah Naidu, vice president
India grieves the demise of our beloved Atal Ji. His passing away marks the end of an era. He lived for the nation and served it assiduously for decades. It was Atal Ji's exemplary leadership that set the foundations for a strong, prosperous and inclusive India in the 21st century. His futuristic policies across various sectors touched the lives of each and every citizen of India. Atal Ji's passing away is a personal and irreplaceable loss for me. I have countless fond memories with him. It was due to the perseverance and struggles of Atal Ji that the BJP was built brick by brick.
Narendra Modi, prime minister
I cherish the memories of my long association with him, right from our days as pracharaks of the RSS, to the inception of Bharatiya Jana Singh, the struggle of the dark months during the Emergency leading to the formation of Janata Party and later the emergence of the Bharatiya Janata Party in 1980. Atalji will be remembered as the pioneer of the first ever stable non-Congress coalition government at the Centre and I had the privilege of working as his deputy for six years. As my senior, he always encouraged and guided me in every possible manner
- L K Advani, veteran BJP leader
- Today India lost a great son. Former PM, Atal Bihari Vajpayee ji, was loved and respected by millions. My condolences to his family & all his admirers. We will miss him.
Rahul Gandhi, Congress president
Atalji emerged as a popular national leader who believed that power is a means of service and led a spotless political life without compromising on national interest. And that's why the people across political and social boundaries showered him with love and respect. A rare politician, brilliant speaker, poet and patriot, his demise is not just a irreparable loss for the BJP but also for the entire country. On the one hand Atalji as the head of a party in opposition played the role of an ideal opposition while on the other hand he provided the country a decisive leadership as Prime Minister
- Amit Shah, BJP chief
Deeply saddened at the passing away of Shri Atal Bihari Vajpayee. A reasoned critique in opposition and a seeker of consensus as PM, Atal Ji was a democrat to the core. In his passing away, India has lost a great son and an era has come to an end. My deepest condolences.
- Pranab Mukherjee, former president
I am deeply saddened by the passing away of Shri Atal Bihari Vajpayee....His death leaves behind a huge void.Shri Vajpayee was a towering figure in our national life. Throughout his life, he stood for democratic values and demonstrated this commitment in all his acts, whether as a parliamentarian, a cabinet minister, or prime minister of India. He was a spell-binding orator, a leader of great vision, a patriot to the core for whom the national interest was paramount. But above all, he was a man with a very large heart and a real spirit of magnanimity.
- Sonia Gandhi, United Progressive Alliance chairperson
Such an incredible and invaluable jewel adding to the glory of our motherland has left for heavenly abode today – the precious gem of the crown has left behind a void
- Sumitra Mahajan, Lok Sabha speaker
An excellent orator, an impressive poet, an exceptional Public Servant, an outstanding Parliamentarian and a great Prime Minister, Shri Vajpayee ji stood among the tallest leaders of modern India, who spent his whole life serving our great country. His services to our nation will be remembered for a long time to come. His ability and personality were such that people from all walks of life, irrespective of their political leanings, loved and respected Shri Vajpayee ji.
- Manmohan Singh, former prime minister
He was a true parliamentarian. With his death, a vacuum has been created in polity and end of an era of politics in this country. He was a great orator who refused to attack his opponent personally. He did not allow the House to be disturbed during my tenure as the prime minister for the 11 months
- H D Deve Gowda, former prime minister