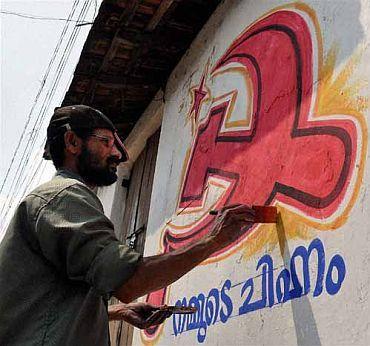 The new Communist Party of India-Marxist-led Left Democratic Front ministry, headed by party leader and Politburo member Pinarayi Vijayan, will be sworn in on May 25.
"We have planned to hold the function on May 25 in the evening at the Central stadium here," Chief Minister designate Vijayan told reporters after a brief meeting with CPI-M's senior most leader V S Achuthanandan at the latter's official residence at Cantonment house in Thiruvananthapuram.
The LDF would meet on Sunday to discuss matters related to ministry formation, Vijayan said when asked about the nature of the new ministry.
Kerala Chief Minister-designate Pinarayi Vijayan on Saturday met the CPI-M's senior most leader 92-year-old V S Achuthanandan and spent some time with him.
Vijayan, accompanied by party state secretary Kodiyeri Balakrishnan, met Achuthanandan, the leader of the Opposition in the outgoing Kerala Assembly, at his official residence at Cantonment House and informed him that the LDF ministry would be sworn in on May 25 and invited him for the same.
Achuthanandan is understood to have told him that immediate efforts should be made to curtail the price rise of essential commodities and the new government should initiate steps for safety of women in the wake of the brutal murder of a Dalit law student in Perumbavoor.
The meeting, which came ahead of the proposed press meeting Achuthanandan had called at 11 am, assumes importance amid reports that the nonagenarian, LDF's main campaigner in the May 16 assembly polls, was reportedly unhappy at not being anointed as chief minister.
In a bid to scuttle such reports, CPI-M General Secretary Sitaram Yechury has yesterday met the press flanked by Achutanandan and Balakrishnan.
The party, in an attempt to placate Achutanandan, had yesterday compared him with Fidel Castro and had said he will continue to guide and inspire the front.
Political commentator N M Pearson said Achuthanandan is Pinarayi Vijayan's mentor and there is need to see the visit as the chief minister-designate seeking blessings from his mentor.
Vijayan also called on outgoing Chief Minister Oommen Chandy.
LDF romped to power with 92 seats pushing the Congress led United Democratic Front to 47 in the 140-member assembly and the Bharatiya Janata Party bagging a single seat.