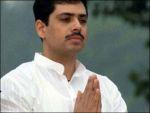 There has been no undervaluation of properties sold or bought by Robert Vadra or his companies in four Haryana districts, a probe ordered by whisteblower IAS officer Ashok Khemka is understood to have found amid a row over deals between Congress chief's son-in-law and DLF.
The Deputy Commissioners (DCs) of Gurgaon, Faridabad, Palwal and Mewat in NCR region had been asked by Khemka to inspect all documents registered from 2005 on behalf of Vadra or his companies in the capacity of vendor (seller) and vendee (buyer) and he had also cancelled the sale of over three acres land to realty major DLF.
The inquiries conducted by the DCs of the four districts have clarified on the basis of report of district revenue officials that there was no undervaluation in Vadra's land deals, informed sources said on Friday.
The report will be submitted to three member committee headed by additional chief secretary that was asked by state government to inquire into the issues raised by Khemka who was removed as Inspector General of Registration after he ordered a probe into all the land dealings of Congress president Sonia Gandhi's son-in-law in the four districts of Haryana.
With the submission of the inquiry report by the DCs it will now become easier for the committee probing the allegations of Khemka to work further, officials said.
The DCs in their reports have marked that Vadra had paid stamp duties in full on purchase or selling of lands in the NCR as per the Collector Rates prevailing then.
The registries were done over and above the price of collector rates in the NCR by Vadra, the DCs have marked, according to the report.
"In the four districts the stamp duties have been paid over and above the collector rates in around a dozen of registries of land worth 100 acres done by Vadra," the sources said.
"All documents have been registered as per the collector rates for such deals by paying the stamp duty. No loss in revenue has been caused to the state exchequer in execution these deals," the report of a revenue official of Palwal district, copy of which is with PTI, states.
The opposition Bharatiya Janata Party and activist Arvind Kejriwal, who had demanded probe into Vadra-DLF dealings, were quick to trash the report.
"That was expected. Country would be surprised if it were otherwise. In Haryana, all good officers are shunted out. Those in key positions crawl when asked to bend. Now Cong will protect Gadkari and BJP will protect Vadra," Kejriwal said.
BJP leader Rajnath Singh said there was no reason to believe in the findings. "You are talking about the deputy commissioners of the government. Now if the allotment has been done by them only, how can they say that it is wrong? So I feel that that there is no reason to believe in it," he told reporters in Kanpur.
On being contacted, Khemka said that he was not on duty and at present does not hold the charge of department concerning land.
"If a report is pointing that there was no undervaluation then it will increase the faith of the people in the government functioning," he said.
A 1991-batch IAS officer, Khemka, who claimed that it is his 43rd transfer in 20 years, had earlier said it was "grossly unfair to punish" him "for being upright and exposing the scams".
He had also significantly ordered the cancellation of mutation of 3.5 acre plot of land in Manesar-Shikohpur that Vadra had sold to DLF for Rs 58 crore.
Chief Minister Bhupinder Singh Hooda had maintained that if Khemka's assertions made with regards to the land deals are found to be true, action will be taken against anyone found guilty.
Officials in Gurgaon district also told PTI that there was no under-valuation in payment of stamp duty for registration of about 2.6 acre commercial land in Sheikhupura village of the district.
However, Additional Chief Secretary Revenue Krishan Mohan and Revenue Special Secretary Ashok Yadav on being approached refused to comment on the issue.
Another senior officer said that "the government has set up a probe panel into Khemka's allegations which will submit its report in a month."
Vadra paid, in a deal, more than Rs 2.21 lakh as stamp duty for buying nine acres of land, though he was liable to pay only Rs 67,500.
The total consideration of deal, executed on March 3, 2008, has been shown worth Rs 36.9 lakh against the then collector rate of Rs 13.5 lakh for a piece of 74 acres of land purchased by Vadra and his companies in Hassanpur village of Hodal in Palwal which means that the land has been registered on the higher side than the charges fixed by the government, the report said.