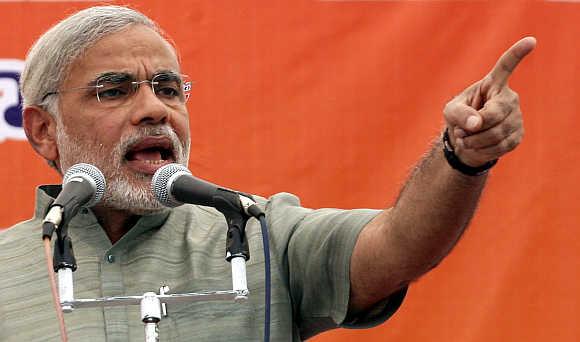 With his elder son drawing flak for mispronouncing a Hindi word during his swearing-in ceremony, now Rashtriya Janata Dal supremo Lalu Prasad has raked up an issue, saying
Prime Minister Narendra Modi should take his oath of office afresh as he had 'mispronounced' the word 'akshunn' during his oath-taking last year.
Modi, he said, did not properly pronounce the word akshunn (unharmed) while taking oath as the prime minister and instead pronounced it as akshann which does not have a literal meaning.
'Desh ko todne ka inka agenda hai hi kyunki PM ne desh ki prabhuta and akhandata ko akshunn (unharmed) rakhne ki sapath to li hi nahin thee (Their agenda is to break the country as the PM had not taken oath properly to maintain the unity and integrity of the country),' Prasad said in his posts on a social networking site on Sunday.
By mispronouncing the word, Modi has rendered his oath 'futile' and he should 'take it afresh', Prasad said.
'Akshunn (unharmed) hi nahin bola to shapath bekaar hai... PM ko dobara shapath leni chahiye...'akshann' ka Hindi mein koi shabdik arth nahin hai (PM did not say akshunn (unharmed) which renders his oath futile...He should take oath afresh as 'akshann' word has no literal meaning in Hindi,' he said.
The RJD supremo's elder son had mispronounced the word 'apekshit' (expected) as 'upekshit' (neglected) while taking oath as a senior minister in the Nitish Kumar government on November 20.
Governor Ram Nath Kovind had objected to the mispronunciation of the word by Tej Pratap and asked him to read out the oath afresh. He faced a barrage of jokes and criticism, especially on social media, for his lapse.
Meanwhile, replying to Lalu, Bihar Bharatiya Janata Party leader Sushil Kumar Modi tweeted, 'Lalu has asked PM to take oath again.PM will fulfil Lalu's dream but he will have to wait till 2019'.