On the shopping list: Light tanks, anti-tank guided missiles, UAVs, assault rifles, fighter aircraft.
Ajai Shukla reports.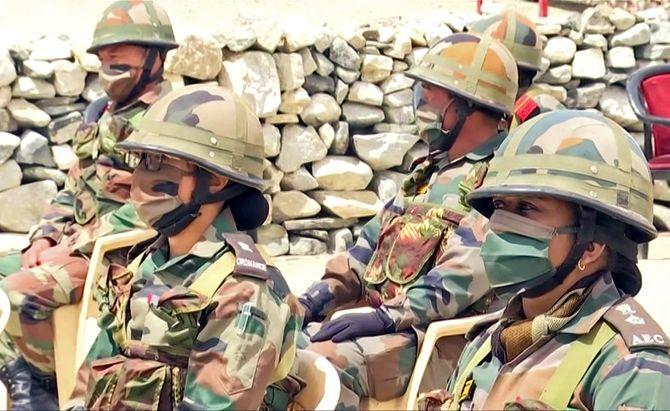 With the ministry of defence clearing the emergency import of arms and equipment to help the military deal with Chinese aggression in eastern Ladakh, the Make In India and Atmanirbhar programmes would be one of the quiet casualties of that crisis.
The planned import of several categories of weapons -- specifically light tanks, Israeli Spike LR anti-tank guided missiles (ATGMs), Israeli Heron unmanned aerial vehicles (UAVs), US-made SIG Sauer assault rifles and MiG-29 fighter aircraft -- will undercut Indian programmes to develop indigenous alternatives.
Light tanks
A key overseas procurement the MoD has initiated is for light tanks.
The army needs these key battlefield weapons to be small enough to be transported in aircraft; light and manoeuvrable enough to traverse narrow, twisty mountain roads and engineered to operate in sub-zero temperatures at extremely high altitudes. User trials would be required to identify the most suitable tank.
The procurement of light tanks has been initiated after surveillance satellites detected large numbers of Type 15 tanks of the People's Liberation Army on the Chinese side of the Line of Actual Control.
The Type 15, also called the ZTPQ, is not strictly a light tank since it weighs close to 33 tonnes, while light tanks traditionally weigh up to about 25 tonnes.
In fact, the T-72 tanks that equip an Indian armoured brigade in Ladakh weigh about 42 tonnes -- only slightly heavier and less agile than the PLA's Type 15.
The army has long pitched for an indigenous light tank to equip an armoured brigade raised to defend Sikkim.
The Defence R&D Organisation says its armoured fighting vehicle laboratory -- the Combat Vehicle R&D Establishment, which developed the 66-tonne Arjun tank -- can quickly deliver an indigenous 25-tonne light tank for use across India's mountain borders and in jungle terrain.
Indian armoured regiments have a unique history of taking light tanks into battle at altitudes of over 14,000 feet.
In 1948, the tank regiment, 7th Light Cavalry, took its French AMX-13 tanks into battle at Zojila Pass between Kashmir and Ladakh.
In 1962, the 8th Light Cavalry also took AMX-13 tanks to the Nathu La pass in Sikkim though they were not involved in actual battle.
Anti-tank guided missiles
Sources also say the MoD has green-lighted the purchase of an unspecified number of man-portable Spike ATGMs that can destroy enemy tanks at ranges up to 4 kilometres.
Expressing regret at this decision, senior DRDO officials say the indigenous project to develop a man-portable ATGM -- officially called the MPATGM project -- is "very successful" and that the missile has successfully completed five rounds of trials. Further trials are scheduled for later this month.
"If the services are going to buy overseas, it is unfortunate. We are in an advanced stage of development and are offering them the missile," says the DRDO official.
The MoD backed the DRDO in February 2018 when it told Parliament that it had cancelled plans to build the Spike missile in India 'on account of indigenous development of third-generation MPATGM system by DRDO'.
Last year, announcing the 'third series of successful testing of MPATGM', the MoD stated: 'The test paves the way for the army to have developed third-generation MPATGM indigenously.';
Fighter aircraft
On July 2, the MoD approved the procurement of 21 MiG-29 fighters and the upgrade of 59 existing MiG-29s in the Indian Air Force's fleet for Rs 7,418 crore (Rs 74.18 billion), and the production of 12 Sukhoi-30MKI fighters in Hindustan Aeronautics for an estimated Rs 10,730 crore (Rs 107.30 billion).
Officials at DRDO and HAL say that rather than buying old MiG-29s, the MoD should have allocated funds for ramping up production of the indigenous Tejas Mark 1 and Mark 1A fighters, which are entering service too slowly.
However, DRDO has scored a major indigenisation success through the IAF's order for an estimated 250 indigenous Astra air-to-air missiles. This order will inevitably increase as the Astra is progressively integrated into other IAF fighters.
Assault rifles
An earlier 'fast track' order for 72,400 SIG Sauer assault rifles for Indian infantry battalions has been boosted with another similar order for the US-made weapons. The first order is currently being discharged.
Meanwhile, there is slow progress on the project to build 700,000 AK-203 assault rifles in India in a joint venture between Russian rifle maker Kalashnikov and India's Ordnance Factory Board.
The project was to come on stream in 2020, but is being delayed partly due to COVID-19 travel restrictions
With the Indian Army requiring close to one million rifles, there is space for an indigenous weapon too.
However, the INSAS 1C, which has been designed and built by DRDO, has not yet cleared the army's stringent 'user trials'.
Heron UAVs
The need for long-endurance surveillance capability that has been underlined in the ongoing onfrontation in Ladakh has led the MoD to clear the acquisition of Heron high-altitude long endurance drones which will supplement the existing fleet of Herons.
DRDO's indigenous UAV, the Rustom-2, is still under development and has not yet entered user-evaluation trials.