Police has registered a case of attempt to murder and other offences against six persons, including members of temple managing committee and associates of firework contractors in connection with the Putttingal Devi temple fire tragedy, even as the toll on Monday rose to 109.
A case has been registered against six persons including temple authorities under section 307 (attempt to murder), and 308 (attempt to commit culpable homicide) of IPC and under section 4 of Explosives Substances Act.
Besides the members of the temple managing committee, case was also registered against assistants of contractors who held the 'competitive' pyrotechnic display, despite a ban on it by the district administration.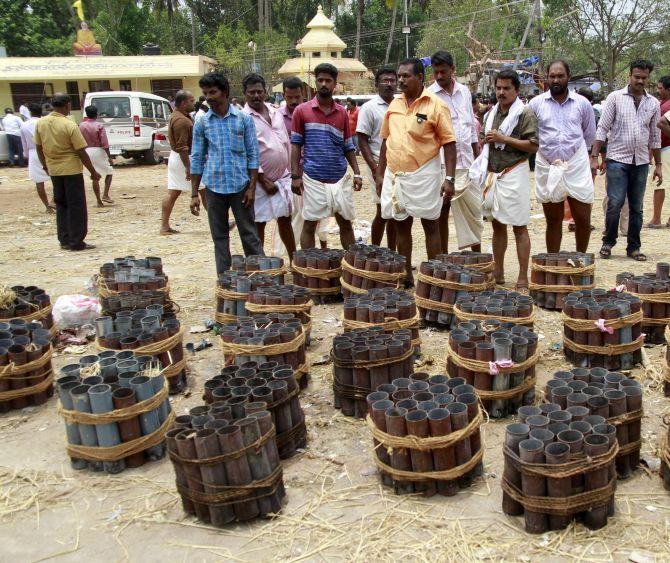 IMAGE: People stand next to empty fire cracker shells inside the compound of a temple after a fire broke out at the temple in Kollam. Photograph: Sivaram V/Reuters
A crime branch probe also began into the fireworks tragedy.
A day after the devastating fireworks accident, that also left 383 people injured, a Kerala high court Judge wrote to the court seeking its intervention for an immediate ban on use of high-decible explosive crackers in all Kerala temples. The case is likely to come up for hearing on Tuesday.
Officials of the crime branch and personnel from the office of Chief Controller of Explosives collected evidence from the accident spot, situated about 70 km from Thiruvananthapuram.
The toll rose to 109 with three persons succumbing to their injuries while around 300 were still under treatment at various hospitals for burns and other injuries, a release from the chief minister's officer said.
The condition of seven persons admitted to the Medical College Hosptial was serious, state Health Minister V S Sivakumar said.
The accident occurred at the 100-year-old Puttingal Devi temple complex during an unauthorised display of fireworks early Sunday morning after a spark from a firecracker fell on the storehosue containing crackers, triggering explosions.
Of the deceased, 14 were yet to be identified as the charred bodies made the task difficult, official sources said.
Meanwhile, at least 100 kg of explosive materials have been seized from a storehouse at nearby Attingal, the police said.
Besides two cars with some raw materials used for crackers were also recovered by the police.
The growing calls for ban on such fireworks display in temples in the wake of the Puttingal tragedy had its echo in the high court with Justice V Chitambaressh writting to the registrar general suggesting a ban on use of high decibel crackers.
"The time is more than ripe for immediate judicial intervention to stop such man-made tragedies by banning the use of high decibel explosive fire crackers," he said adding his letter could be considered as a PIL.
The 'Devaswom Bench' of the court, which deals with matters related to temples, comprising Justices Thottathil B Radhakrishnan and Anu Sivaraman is likely to consider the matter.
Earlier, the Travancore Devaswom Board, which manages about 1,255 temples in the state, said it was not for a complete ban on such fireworks displays.
TDB President Prayar Gopalakrishnan said that the board was against banning pyrotechnics during temple festivals as they were part of rituals, but added they should be staged as per restrictions of government and court orders with sufficient safety measures.
As gross 'violation' of rules in the fireworks display came to the fore, none of the 15-member managing committee of the temple, run by a private trust, reacted so far to the deadly mishap. A senior official said they were "absconding".
Indicating gross violation of rules guiding explosive laws, Chief Controller of Explosves, Sudarshan Kamal, said, "There seems to be a gross violation of explosives norms and basic precautions had been ignored".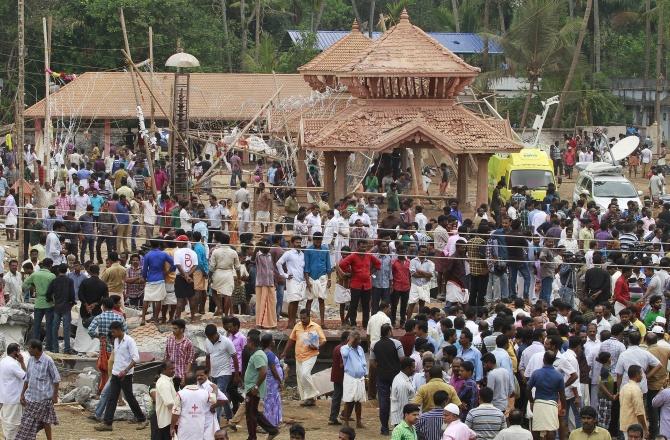 IMAGE: People gather inside the compound of the temple after a fire broke out in Kollam. Photograph: Sivaram V/Reuters
Amid conflicting reports on how the fireworks display was held despite the ban, Kollam District Collector A Shainamol said, "We had issued clear directions to police to ensure that the fireworks programme is not held".
While the police in its first report stated permission should not be granted, two days later on April 8 they changed their stand and this was 'mysterious', she said.
"The police has to implement the orders of the district collector and I have asked the Kollam commissioner for an explanation," Shainmol said.
The collector said that there was no pressure on her to grant or deny permission for the display. "I just did my job. There was no pressure on me."
The local people, who are yet to recover from the shock, are slowly preparing to bid adieu to their near ones who perished in the accident.
Bodies which have been identified are being handed over to relatives, officials said.
Poignant scenes were witnessed in hospitals, including the Thiruvananthapuram Medical College Hospital, where inconsolable relatives were waiting to receive the bodies.
Eight injured persons, who had been under treatment at local hospitals in Kollam, were brought to TMCH on Monday, health department officials said.
A total of 66 victims, including six women, are undergoing treatment in the ICUs and wards at the TMCH they said, adding that a number of persons were also under observation.
Relatives and friends gathered at the mortuary to receive bodies of their near ones, said they were yet to come to terms with the shock inflicted on them by the unexpected tragedy.
Soman, a 68-year-old daily wage labour, broke into tears when he received the body of his nephew Vinod Kumar, who succumbed to serious injuries suffered in the mishap.