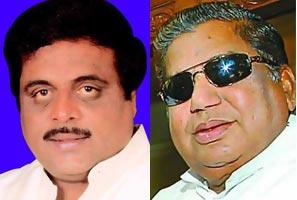 The Karnataka elections had its share of upsets this year. Some major politicians who were defeated include former chief ministers N Dharam Singh and S Bangarappa, former Union minister and film star Ambareesh, Madhu and Kumar Bangarappa.
S Bangarappa, who took on BJP's B S Yeddyurappa in Shikaripura, was helped by the Congress and the Janata Dal – Secular, who withdrew their candidates. But the gamble did not pay off and Yeddyurappa won by a thumping majority of over 40,000 votes.
Poll pundits point out that there are three reasons for Bangarappa's defeat. Firstly, the residents of Shikaripura voted for Yeddyurappa since he was the CM candidate of the BJP. Secondly, the sympathy factor worked in Yeddyurappa's favour, after he was let down by the JD-S' flip-flops. Thirdly, Bangarappa did not have much time to campaign in Shikaripura.
Ambareesh, who lost from the Srirangapattana constituency to the JD-S by a margin of 5164 votes, was considered a sure shot winner. But the people felt that he is not accessible to the general public and he hardly spent any time at his constituency.
His statement on the contentious Cauvery water issue also worked against him, as the people felt that he should have resigned from the Union cabinet when Karnataka got an unfavourable verdict from the Cauvery Waters' Tribunal. Though Ambareesh had declared that he would resign, he eventually did not do so.
The battle between the Bangarappa sons at the Soraba constituency did not go down too well with the voters and BJP's H Halappa had the last laugh. The voters got tired of the Bangarappa family politics, where two members were representing the Samajwadi Party and one was in the Congress.
Former Chief Minister N Dharam Singh was another casualty. Though he has won in the Jewargi constituency 8 times, he lost this time by only 72 votes. The people were looking for a leader of the masses and they felt that Singh did not live up to their expectations. Moreover, the fact that the Congress didn't project him as a CM candidate worked against him.
Image: (Left) Ambareesh and Dharam Singh.