Home > India > News > First Look


Karnataka polls: It's Bangarappa vs Bangarappa again

Vicky Nanjappa | May 14, 2008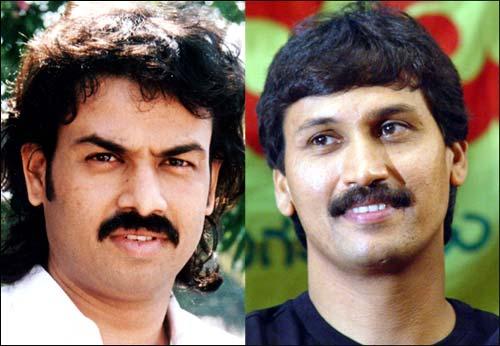 It is all in the family for the Bangarappas. While Bangarappa senior is taking on B S Yeddyurappa at Shikaripura, his sons are battling hard for his legacy. Kumar and Madhu Bangarappa, from the Congress and the Samajwadi Party respectively, are competing against each other at the Soraba constituency in Shimoga -- 38 kms from Shikaripura.
The brothers are fighting hard to take over the legacy of their father, who has an enviable record from the Soraba constituency.
The former chief minister has won the elections from this constituency seven times in a row, between 1967 and 1994, before making way for his sons.

Kumar, the elder sibling and the Congress candidate, finds himself isolated from the rest of his family, thanks to his political affiliation. His brother Madhu and his father are both contesting on SP tickets.
Incidentally, this is not the first time that the duo is up against each other. In the 2004 assembly elections, Kumar had beaten Madhu by a margin of 12,000 votes. At that time, Madhu was the Bharatiya Janata Party candidate from Soraba.
However, the brothers refrain from hitting out at each other during their election campaigns.
While Kumar Bangarappa speaks about a stable Congress government and also his achievements as Irrigation Minister in the S M Krishna cabinet, his brother Madhu is toeing the emotional line with his father's help.
While campaigning for Madhu, Bangarappa senior tells the voters, "I have done a lot for this constituency. Please give me some peace in my old age. Bless the younger child who has come to your door step and is willing to serve you."
Residents of Soraba say that Bangarappa senior initially had big plans for Kumar. However, the two fell out politically after Kumar decided to return to the Congress against his father's wishes.
Kumar evades the touchy subject by stating that he only wants to work for his constituency. Madhu diplomatically maintains that the better candidate should win.
Incidentally Soraba is one of the most backward constituencies in the state, according to the D M Nanjundappa committee report on regional imbalance.
Many residents of Soraba are tired of the Bangarappa family's constant party hopping and father's decision to take sides where his sons are concerned.
Banking on this factor is Hartalu Halappa, the BJP candidate from Soraba constituency. Halappa, who is also related to Bangarappa, hopes to take advantage of this family's internal differences. He also claims that the anti-incumbency factor may work in his favour this time.
Residents of Soraba, who are aware of the D M Nanjundappa report, feel that the Bangarappa family is only keen about extending its legacy. Barring adequate water supply, this constituency has not witnessed much development in spite of electing a chief minister. Adequate educational, medical, transport facilities and access to financial institutions still remains a far cry. Job opportunities in Soraba also remain scarce.
Despite all these factors, Bangarappa is still a saleable name here. It is very evident that the sons are recognised in Soraba only due to their father. Although Bangarappa senior has not delivered on the development front, he is still loved by the masses.
The Idiga community, to which Bangarappa belongs, swears by him. They appreciate his simplicity and his ability to connect with the masses.
"His mass appeal is so great that once when he came late for a function, the organisers played a recorded speech. The crowd did not budge an inch and listened to the speech until the man himself turned up," recalls a local resident.
However, the situation is changing gradually, especially, among the youths, who feel that they have been given a raw deal. Kumar Bangarappa is aware of this discontent and he wants to mobilise the youth rather than seek votes on emotional grounds.
Like any other constituency in Karnataka, the caste factor plays a crucial role in Soaraba. The 60,000-strong Idiga community forms the biggest vote bank, followed by over 45,000 Lingayats, 40,000 voters from Scheduled Caste / Scheduled Tribes, 18,000 Madivalas and 15,000 Muslims.
During the 2004 polls, Kumar had beaten his brother Madhu in the caste game by taking almost all the Idiga votes. Madhu has realised that and he has been focusing on winning over his community.
However, Kumar still has an edge over his brother as the voters remember the work done by him as a minister. He is also banking on the sympathy factor, as the voters feel that Bangarrapa senior is favouring his younger son.
Image: (Left) Madhu Bangarappa and Kumar Bangarappa
Photograph: KPN Photos