A letter written by a Keralite nurse minutes before she died of the Nipah virus has gone viral in the social media, leaving people teary-eyed.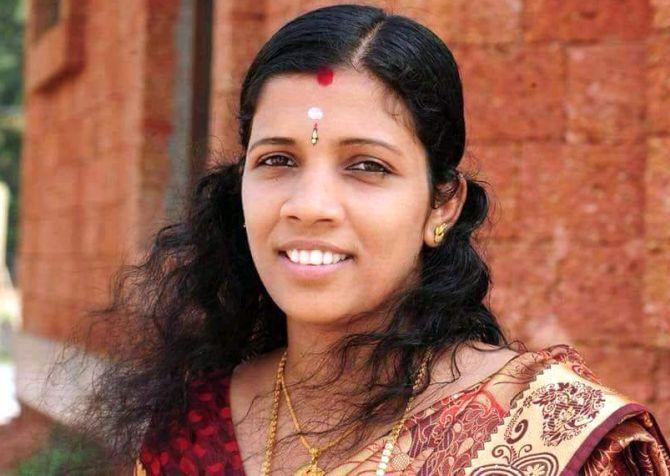 The emotional message scribbled by 28-year-old Lini Puthussery in a brief note in Malayalam to her husband Sajeesh minutes before she died on Monday has gone viral in the social media, leaving people teary-eyed.
'I am almost on the way...You should look after our children well,' was the heart-wrenching message from Lini who succumbed to the rare Nipah virus infection.
A nursing assistant with the Perambra Taluk Hospital in Kozhikode, Lini got exposed to the 'deadly' virus while treating affected patients.
Besides her husband, who works in Bahrain, Lini leaves behind two sons aged five and two.
In the letter to Sajeesh, Lini expressed her pain and anguish that she could not see him again.
She also requested her husband to take care of their children and take them to Bahrain with him.
'I am almost on the way. I do not think I can meet you. You should look after our children well,' she had said.
After consulting the family, authorities cremated Lini's body. This was done as a precautionary measure to ensure that the virus, if present, did not spread further.
After coming to know of Lini's health, Sajeesh had come home two days ago.
Nipah virus has so far claimed 10 lives in Kozhikode and Malappuram districts in north Kerala while the condition of two undergoing treatment is said to be critical.
Kerala Chief Minister Pinarayi Vijayan took to Facebook to mourn the death.
'The loss of Lini, who had sacrificed her life for nursing a patient, is a grief for all of us. Lini's sacrifice is incomparable. It is painful that Lini met with this tragedy while she was sincerely doing her duty. We, the people of the state, share the pain and loss of Lini's family, friends and colleagues,' Vijayan wrote.
The natural host of the Nipah virus (NiV) virus are fruit bats of the Pteropodidae family, Pteropus genus.
There is no vaccination for the virus which has a mortality rate of 70 per cent.
Health officials said they had found mangoes bitten by bats in a home where three people died of the suspected infection, according to a report.
Dr Kafeel Khan to work with Nipah patients
Dr Kafeel Khan, who was arrested after the death of several children at a Gorakhpur hospital last year, has volunteered to work with Nipah virus patients in Kozhikode, an offer accepted by the Kerala government within hours.
Khan, who is now out on bail, is among the nine accused in the BRD Medical College case in which several children died last August after an alleged shortage of oxygen cylinders.
The Uttar Pradesh doctor made his offer on Twitter.
Khan got a call from the Kerala chief secretary, saying Chief Minister Pinarayi Vijayan had accepted his request.
Vijayan said the government was happy to welcome doctors like him to work in the state.
'There are several doctors who serve in the medical field without any concern to their life and health. I am seeing Khan as one among them,' the chief minister said.
Vijayan asked health workers who want to work in Kerala to get in touch with the Kozhikode Medical College superintendent.
'Arrangements of my lodging and boarding will be made by the Kerala government. I am very happy that I got a chance to serve there,' Khan said in Gorakhpur.
Kafeel was in jail for seven months before being granted bail.
'When I was in jail, the people of Kerala backed me on social media and after being released from the jail, I stayed for three days in Kerala,' he said.
In his Facebook post, Khan had requested the Kerala chief minister to allow him 'to save innocent lives'.
He also praised Lini.
'After sehri n fajr namaz was trying to sleep but couldnt. Disturbed with increase no of mortality due to Nipah Virus (NiV) infection n rumors spreading on social media platforms,' he tweeted.
'I request Kerala chief minister Mr Pinarayi Vijayan to allow me to serve at Calicut Medical college to save innocent lives,' he said.
'Sister Lini is a inspiration and I am more than willing to sacrifice my life for the noble cause. May Allah give me the strength/knowledge and skill to serve Humanity,' he wrote.