From his run-ins with the Centre to his political knack to sail through choppy waters, the Delhi CM has shown uncommon talent in running a 'common man's' government. Archis Mohan reports.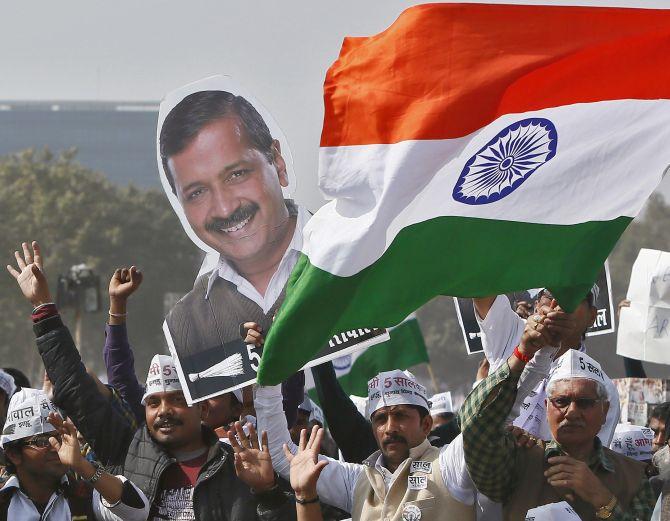 All recent opinion polls show that Kejriwal and his AAP government are still popular with the masses. Photograph: Anindito Mukherjee/Reuters
Arvind Kejriwal, the chief minister of Delhi, let slip in a recent interview to a Hindi newspaper how he hadn't worn a pair of shoes in the past 16 years. The symbolism was obvious. Kejriwal, 47, arguably the sharpest communicator among the current crop of the country's top politicians, was telling his working class support base that he might have completed a year as the CM of Delhi but remains as common a man as them.
The first year of the Aam Aadmi Party government in Delhi has been rocky. A surfeit of controversies dogged the city government, one too many for what essentially is a glorified civic body. Key subjects like law and order and land are controlled by the Union government. Yet, Kejriwal, who only wears leather slippers during even Delhi's extreme cold, has shown how to remain relevant in the national political scene as a possible challenger to Prime Minister Narendra Modi in 2019.

A year of the AAP government has been somewhat divisive for Delhi. The pro-working class policies of Kejriwal's inexperienced government has upset the city's more prosperous classes. His run-ins with the bureaucracy have meant a near-breakdown of trust between Delhi's ruling party and the bureaucracy.
The AAP promise of delivering alternative politics, radical change to governance through "swaraj", or decentralised governance, is far from having been achieved. Most of the promises made during the February 2015 elections are still at the drawing board stage. But, his government seems to have made a difference to the lives of enough common men and women for them to tell all recent opinion polls that Kejriwal and his government were still popular.
Unexpected maturity
The negatives of the past 365 days are numerous. These include the AAP government's standoff with Lieutenant Governor Najeeb Jung over transfers and postings of bureaucrats, officers striking work against the government a day before the launch of the "odd-even" vehicle scheme, non-payment of money to civic agencies leading to protests, garbage not being cleaned for days, Central Bureau of Investigation raids on the Delhi CM's principal secretary and the Centre snatching away the Anti-Corruption Branch from the AAP government's purview.

Ajay Maken, chief of the Delhi unit of the Congress, says the AAP government failed to spend its budgetary allocations for key sectors. "Their ministers and legislators are involved in corruption. They have failed to deliver on their promises. The government's been a disaster," he says, adding how the dispensation has spent Rs 500 crore on advertisements.

Bharatiya Janata Party spokesperson Sanjay Kaul blames the failure of the government on the "insecurity" of Kejriwal. He also questions some of the steps, like creation of 'mohalla committees' to devolve power, as dangerous. "They are immature and have a hyper sense of their own importance. What they are doing in the name of 'decentralisation' is to create private armies. In the coming years, the big challenge for citizens of Delhi would be a class war," Kaul says.

Kejriwal's detractors, particularly some of his former comrade in arms, point to the Delhi CM's individualistic leadership. In hounding out fellow travellers like Yogendra Yadav and Prashant Bhushan from AAP, Kejriwal showed himself to be extremely ruthless and ambitious. According to those who know him, Kejriwal is also crony-minded, surrounded by three-four close associates.

But few, if any, among the large masses of Kejriwal's support base among Delhi's middle and the working classes seem to have turned against him. The success of the 'odd-even' scheme to tackle Delhi's increasing pollution was not only evidence of Kejriwal's ability as a communicator but also the trust that people continue to have in him.
It also exposed both the Congress, but particularly the BJP which had won a creditable 33 per cent vote share in last year's Delhi polls, for having failed to find a single leader who can in the years to come become a potential rival to Kejriwal.
Initiatives in urban governance
Kejriwal and his lieutenants like Manish Sisodia have gone about their work with a maturity that few thought they were capable of. In the run up to the February 2015 assembly polls, AAP made 70 promises to Delhi's voters. Among these was a commitment to rein in the city's private power distribution companies.
The promise had a tinge of adventurism to it, but after the first few steps, Kejriwal and his associates realised that discretion was the better part of valour. A truce was reached, but only after the government delivered on its commitment of significantly ensuring reduction of power bills. Consumers in Delhi -- the city has no power plant of its own -- get the cheapest power in the entire country.
Another promise fulfilled was supply of 20,000 litres of free water per family and no hike in water rates. According to government claims, the Delhi Jal Board, despite the so-called populist measure, has seen its revenue increase by Rs 176 crore.
The 'odd-even' scheme from January 1 to 15, where cars with odd and even number plates were allowed on city roads on alternate days, was watched with interest across the world. Few in the BJP and Congress had anticipated that Kejriwal's government would pull it off. A subsequent survey has given the Delhi government the confidence to re-introduce it from April 15 to 30. According to it, pollution reduced by 20 to 30 per cent during the January fortnight.
There was much criticism of Kejriwal for not including two-wheelers in the scheme. People said he had spared his support base. However, Delhi government data suggest this exemption helped in keeping the ridership in the Delhi Metro Rail and bus services at an even keel. Metro ridership during the fortnight increased by 0.4 per cent while bus ridership increased seven per cent, indicating car-pooling was a success.
Aware that the car-owning middle-class might have supported the exercise but could lose patience with it in the long run, the government plans to introduce 1,000 luxury buses by May and a total of 3,000 new buses by year-end. There is also a plan to build 10 elevated corridors, exclusively for buses and some for cars as well, by erecting pillars above some of the drains. The AAP government says the cost of building a kilometre of this corridor will be Rs 160 crore against Rs 500 crore needed to build a kilometre of metro rail.

The biggest departure in urban governance has been in the social sector. The first budget of the AAP government significantly increased the allocation for both the health sector and schools. It introduced the concept of air-conditioned "mohalla health clinics" and has also started offering free diagnostics and medicines in government hospitals.
The funds for free medicines, AAP claims, has come from nearly Rs 375 crore it saved in construction of three flyovers. Cost of road constructions has reduced significantly with increased use of flyash. The stress on revamping education has resulted in 54 "model schools" and drastic improvement in school infrastructure and teaching.
Anecdotal evidence suggests the corruption that people face in ensuring delivery of public services has come down, although encroachment of roads in several areas. Raids on traders have also come down. There are several new initiatives, including introducing free Wi-Fi, and devolving powers to the "citizens committees" that will be keenly watched across India.

Future
While the AAP in Delhi has its eyes set on winning the civic body elections in 2017, Kejriwal hopes to lead his party to victory in the Punjab assembly elections that year. According to an internal Shiromani Akali Dal survey, AAP is on the cusp of a sweep in Punjab. Kejriwal has been tight-lipped on whether he will continue to be Delhi CM if his party were to win Punjab.

The former bureaucrat has age on his side and can dream of not only winning Punjab but also the ultimate crown in years to come. When asked at a gathering of journalists recently if he saw himself as a challenger to PM Modi in 2019, Kejriwal kept quiet and looked in the middle distance.