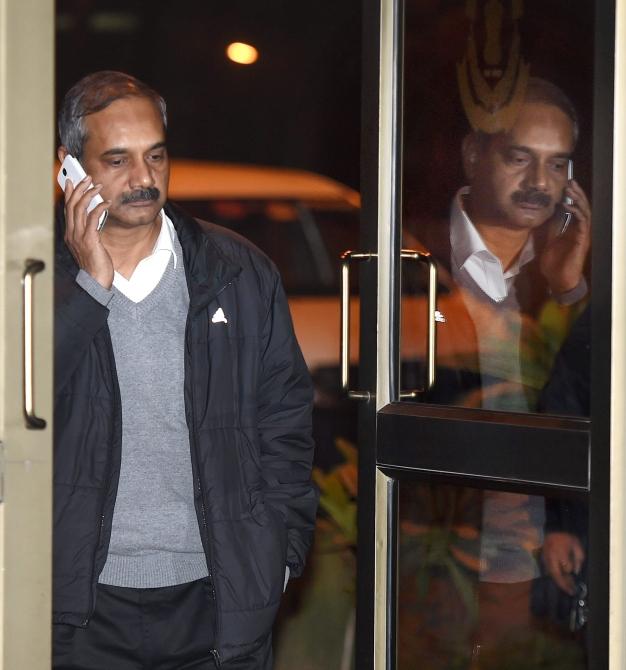 Rajendra Kumar, Principal Secretary to Delhi Chief Minister Arvind Kejriwal, was on Wednesday subjected to a marathon nine-hour questioning along with two other accused as the agency tried to look for a quid pro quo in a corruption case against him.
Despite repeated queries on the alleged benefits, if at all, received by Kumar for purportedly favouring a software firm, Central Bureau of Investigation sources limited themselves to saying that the owners of the firm had worked with Kumar "at some point of time".
Along with Kumar, the CBI also examined owner of Endeavour Systems Private Limited Dinesh Gupta and Managing Director of Intelligent Communication Systems India Limited R S Kaushik at its headquarters.
CBI sources claimed that Kumar has been providing information which was not given by him on Tuesday.
The officer arrived at the CBI headquarter at 9.40 am for the questioning and left at around 6.45 pm in the evening. His lawyer H S Phoolka was also in the vehicle with him.
Meanwhile, the CBI, which is facing flak from Aam Admi Party and other opposition parties at the Centre for its searches on Tuesday at the office of Kumar, a 1989-batch Indian Administrative Sevice officer of AGMUT cadre, tried to defend itself saying it has not seized any material which is not relevant to the investigation.
"The CBI seizures during the searches at all 14 places, were in the presence of independent witnesses, as per the procedures laid down by the law. The search-cum-seizure memo containing details of all seized items will be produced before the competent court," agency spokesperson Devpreet Singh said.
She claimed that blatantly incorrect information is being spread by certain quarters since yesterday to discredit the agency with the intent to obstruct investigation.
The CBI neither prevented nor disallowed any person in their movement to the various offices in the Delhi Secretariat including the chief minister's office except the Office chamber of his secretary, Rajendra Kumar and that of his personal assistant.
"The CBI has already clarified that the office of the Chief Minister Delhi was neither searches nor sealed," she said. The agency's action on Tuesday evoked sharp reaction from
Kejriwal who accused it of searching files "unrelated" to the probe against Kumar and claimed that a file relating to DDCA was scrutinised by it.
"The CBI kept reading DDCA file in my office. They would have seized it. But after my media briefing, they left it. Not clear if they took a copy. Documents seized from my office.No relation to allegations being probed. Item 7-file movement register of last one month," he said in a series of tweets.
Jaitley had yesterday dismissed the allegations against him as "rubbish".
Kejriwal also uploaded image of a document listing the files allegedly taken away by the CBI from the Delhi Secretariat during its day-long raid yesterday. Agency sources claimed that it has recovered documents pertaining to bank balances of approximately Rs 28 lakh from Kumar who is facing probe for allegedly favouring a private firm in government contracts.
The documents pertaining to fixed deposits worth Rs 1.66 crore were allegedly found from A K Duggal, former MD, ICSIL, CBI sources claimed.
Kumar was questioned by the CBI for about seven hours late on Tuesday night after the probe agency sleuths raided his Delhi Secretariat office, triggering a political storm between Delhi government and the Centre.
The CBI said that it has registered a case against Kumar and others on allegations against the officer that he abused his official position by "favouring a particular firm in the last few years in getting tenders from Delhi government departments".
Kumar has been booked under 120-B of the Indian Penal Code (criminal conspiracy), and 13(2), 13(1)(d) of the Prevention of Corruption Act (Criminal conspiracy, criminal misconduct etc) for allegedly favouring a private company in five contracts worth Rs 9.5 crore during 2007-14.
The CBI carried out searches at 14 places connected with Kumar in the national capital, including his residence, and various locations in Uttar Pradesh.
The agency has claimed to have recovered about Rs 16 lakh, including Rs 2.4 lakh in cash, foreign currency of the value of Rs 3 lakh from Kumar's residence.
"The allegations against Kumar were raised by Ashish Joshi, former member secretary, Delhi Dialogue Commission," the CBI said. As opposition attacked the Centre over the CBI action, the agency went on an overdrive to convey that the raids were being undertaken after following a due a process of law which included getting a search warrant from the competent court.
Kejriwal had on Tuesday called Prime Minister Narendra Modi a "psychopath" and "coward" after the raids and targeted Jaitley over alleged corruption in Delhi's cricket body under his watch.
Image: Delhi Principal Secretary Rajendra Kumar after being questioned by the officials at CBI Headquarters in New Delhi. Photograph: Manvender Vashist/PTI