The office of Delhi Chief Minister Arvind Kejriwal's Principal Secretary was on Tuesday raided by the Central Bureau of Investigation in a corruption case, triggering a fresh face-off between the Aam Aadmi Party and the Centre and a vicious political slugfest in which the AAP chief spewed venom against Prime Minister Narendra Modi.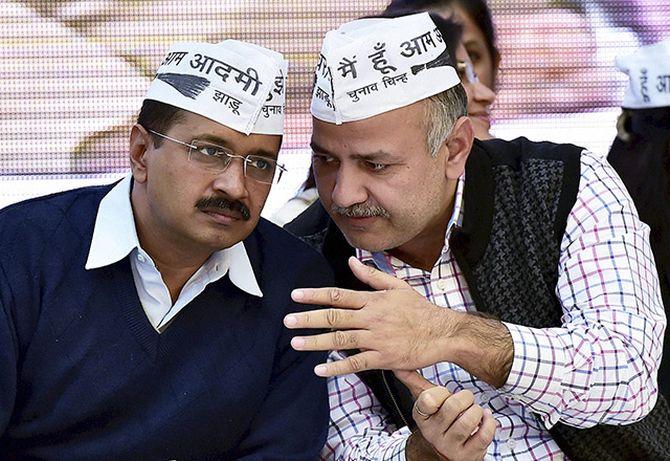 Amid charges and counter-charges, Kejriwal claimed his office was raided which was denied by the CBI as well as Finance Minister Arun Jaitley in Rajya Sabha where the opposition created an uproar.
The chief minister claimed he was in fact the target and that Principal Secretary Rajendra Kumar was just an excuse.
"I am surprised at the raids at my office," Kejriwal told reporters in the evening, hours after he broke the news of the raid with a tweet "CBI raids my office", as the CBI team reached the third floor of Delhi Secretariat.
The AAP chief in a stern warning to Modi also thundered that he is not going to be cowed down by any CBI raid. "I am telling you Modiji; you may have scared others but I'm not among those who can be intimidated. I'll fight till my last breath."
"When Modi cudn't handle me politically, he resorts to this cowardice. Modi is a coward and psychopath," he said, sparking an angry condemnation from a furious BJP which demanded an apology from the chief minister for his "disgraceful" remarks.
A CBI Spokesperson, however, said the searches were being conducted only at the office of Kumar, a senior IAS officer.
In all, the CBI carried out searches at 14 places connected with Gupta in the national capital and various locations in Uttar Pradesh and claimed to have recovered about Rs 16 lakh, including Rs 2.4 lakh in cash. Foreign currency of the value of Rs 3 lakh was also recovered from the residence of Kumar, CBI sources said.
The agency said it has registered a case against Kumar and others on allegations against the officer that he abused his official position by "favouring a particular firm in the last few years in getting tenders from Delhi government departments".
Kumar was charged with IPC 120-B, 13(2) read with 13(1)(d) of the Prevention of Corruption Act (Criminal conspiracy, criminal misconduct etc), a CBI spokesperson said, adding he allegedly favoured the company through five contracts worth Rs 9.5 crore during 2007-14.
"After taking warrants, searches are being conducted in the office and residence of Rajendra Kumar. The allegations against Kumar were raised by Ashish Joshi, former Member Secretary, Delhi Dialogue Commission," the CBI said.
The CBI spokesperson later said that reports from certain quarters regarding searches at the office of Delhi chief minister "are baseless".
A furious BJP lashed out at Kejriwal for his "disgraceful" remarks against Modi, and said it was shameful that the CM who came from the "womb of" anti-graft stir was protecting an officer involved in a "textbook case of corruption".
Demanding an apology from the Delhi Chief Minister for calling Modi a "coward and psychopath", Union Minister Ravi Shankar Prasad rubbished his claim that CBI raided his office, saying it was not even "touched" by the agency.
"A textbook case of corruption is being given political colour for extraneous reasons.... The use of such expressions for our popular prime minister is totally uncalled for, unwarranted, disgraceful and condemnable," he said.
"CBI lying. My own office raided. Files of CM office are being looked into. Let Modi say which file he wants? I am the only CM who dismissed, on my own, a minister n a senior officer on charges of corruption and handed their cases to CBI.
"If CBI had any evidence against Rajender, why didn't they share it with me? I would have acted against him," said Kejriwal in a series of tweets.
In the Rajya Sabha, Jaitley said Kejriwal's office was not raided and that the raid was in relation to a case of alleged corruption against an officer of the Delhi government.
The CBI raid has nothing to do with Kejriwal or his tenure and that the graft case against the officer also pertains to his past, he added.
This was countered by Kejriwal who tweeted, "FM lied in Parliament. My own office files are being looked into to get some evidence against me. Rajender is an excuse".
Union Minister Prakash Javadekar said the CBI was only probing a complaint of corruption against an officer and maintained it has nothing to do with Kejriwal's office.
The Delhi government and AAP reacted angrily to the "raid".
calling it a "darkest" day and "undeclared emergency" in the history of Indian democracy.
Deputy Chief Minister Manish Sisodia challenged the Modi government to dig out something against the AAP government.
Another AAP leader Ashutosh said CBI is "lying to the teeth" for saying that the office of the chief minister was raided and attacked Modi.
"The Modi government has imposed an undeclared emergency in Delhi. Never ever a Chief Minister's office has been raided. It is a black day for India's democracy," said AAP Spokesperson Raghav Chadha.