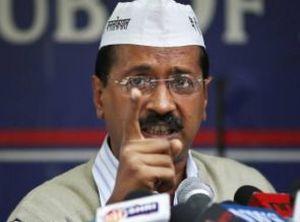 The Budget Session of the Delhi Assembly began on a stormy note on uwith Chief Minister Arvind Kejriwal taking a swipe at Prime Minister Narendra Modi for not taking action against Sushma Swaraj and Vasundhara Raje over the Lalit Modi row while BJP tried to corner the AAP government raking up the issue of "fake degrees".
As BJP's strident attack led to eviction of one of its three MLAs from the House, Kejriwal made a counter-attack suggesting that Modi may have been "kept in the dark" over alleged help to scam-tainted former IPL boss Lalit Modi.
Interestingly, Kejriwal used the same plank to defend his initial decision of backing former Law Minister Jitender Singh Tomar saying "I was kept in the dark (by Tomar) on the issue."
Breaking his silence over Tomar's fake degree issue that has left the AAP redfaced, Kejriwal said the Tri Nagar MLA was immediately removed from the Cabinet.
"The way we removed Tomar as soon as the matter came to light, I would request the Prime Minister to remove them (Swaraj and Raje) from their respective positions and initiate probe against them," he said.
Kejriwal said his government will not tolerate any wrongdoing as it was determined to provide clean governance.
"We will not tolerate any wrongdoing. I do not have any relations with any MLA or minister. We immediately removed him (Tomar) from the Cabinet. If things that have come in the media are true, then I think I was kept in the dark (about Tomar's degrees)," Kejriwal said.
Earlier, BJP vociferously raised the Tomar issue and its MLA O P Sharma even demanded verification of educational qualification of all the 70 MLAs. The party also held a protest outside Assembly protesting "total failure" of the AAP government and alleged that a number of AAP MLAs have fake degrees.
Sharma was evicted from the House after he repeatedly tried to disrupt proceedings and walked up to the chief minister over Tomar's degrees.
Speaker Ram Niwas Goel called the marshalls when Sharma tried to confront Kejriwal.
"The way Om Prakash came from his seat and ran towards the chief minister is not acceptable. I gave a chance to talk and even adjourned the house for 15 minutes. When the chief minister is answering then why not listen to him? I can take strict action against him," the Speaker said.
Earlier, Goel had to adjourn the House for 15 minutes as unrelenting BJP MLAs kept demanding a detailed discussion on the issue.
BJP Legislature party leader Vijendra Gupta also came down hard on the government accusing it of misleading people of Delhi on various issues. The Budget will be presented on June 25.