Locked in a bitter tussle with the Centre over the control of administrative services, Delhi Chief Minister and Aam Aadmi Party national convenor Arvind Kejriwal will meet the chiefs of the Trinamool Congress, Shiv Sena-Uddhav Balasaheb Thackeray and the Nationalist Congress Party this week seeking their support.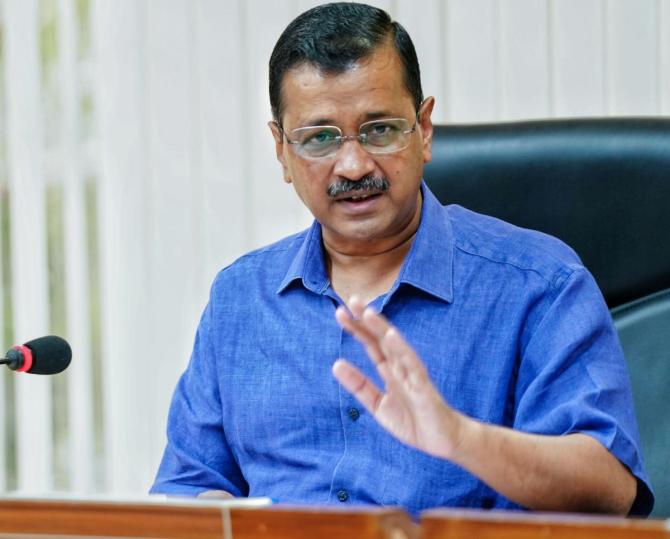 Kejriwal on Sunday said he would meet his West Bengal counterpart and TMC supremo Mamata Banerjee in Kolkata on Tuesday.
And, according to AAP sources, he will meet former Maharashtra chief minister and Shiv Sena-UBT leader Uddhav Thackeray in Mumbai on Wednesday and Nationalist Congress Party supremo Sharad Pawar on May 25.
Earlier in the day, Bihar Chief Minister Nitish Kumar and his deputy Tejashwi Yadav met Kejriwal at his residence here and assured their 'complete support' to him on the issue.
Speaking to reporters after the meeting, Janata Dal-United leader Kumar assured that he would urge other opposition parties also to come in support of Kejriwal in the matter.
The Centre promulgated an ordinance on Friday to create a National Capital Civil Service Authority for transfer of IAS and DANICS cadre officers and disciplinary proceedings against them.
This came a week after the Supreme Court handed over the control of services, excluding those related to police, public order and land, to the elected government in Delhi.
An ordinance has to be ratified by Parliament within six months. For which, the Centre will have to bring a bill for its passage in both Houses of Parliament.
Kejriwal said if the bill is defeated in Rajya Sabha, it will send out the message that the Bharatiya Janata Party will lose the 2024 Lok Sabha elections.
"It will be the semi-final of the 2024 Lok Sabha polls," the AAP national convenor told reporters.
Kejriwal told reporters that he will personally reach out to the chiefs of all the opposition parties to seek their support in the matter so that any bill brought by the Centre to replace the ordinance is defeated in Rajya Sabha.
"Day after tomorrow (Tuesday), I have a meeting with West Bengal Chief Minister Mamata Banerjee in Kolkata at 3 pm. After that, I will meet every party's president to seek their formal support for defeating the bill when it comes in Rajya Sabha," Kejriwal said.
"I have also requested Nitish Kumar ji to talk to all the (opposition) parties in this regard," he added.