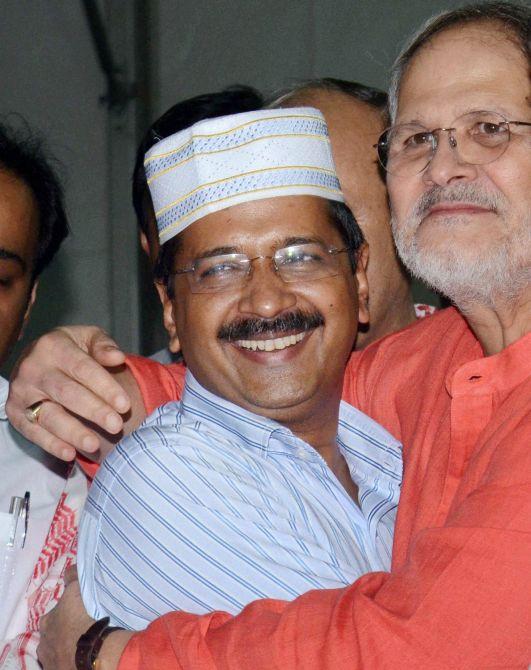 Delhi Chief Minister Arvind Kejriwal seems to have mended fences with Lt Governor Najeeb Jung.
At the Iftar event hosted by him on Sunday evening, the Delhi chief minister said there were no "hard feelings" between them and that the "sour relationship" should end to ensure effective governance and development in the national capital.
The Iftar was also attended by Vice President Hamid Ansari, former chief minister Sheila Dikshit, Police Commissioner BS Bassi and Pakistan High Commissioner Abdul Basit.
"Sour relationship should go away because, anyway, there are no hard feelings as such. Everybody is doing their work. If we work together, only then will the country progress," he told reporters.
The chief minister was responding to a question on whether his relationship with Jung would improve in the coming days.
Earlier, Kejriwal embraced Jung with a warm hug after the latter was ushered in by Deputy chief minister Manish Sisodia, much to the delight of the media at the venue in Central Delhi's Chanakyapuri.
The duo have been involved in a protracted tussle over several issues since the AAP government assumed office, including over the control of the Anti-Corruption Branch of the Delhi government.
Image: Delhi Chief Minister Arvind Kejriwal hugs Lieutenant Governor Najeeb Jung during an Iftar party hosted by him at New Delhi on Sunday evening. Photograph: PTI Photo