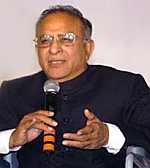 The shifting of S Jaipal Reddy from the petroleum ministry and elevation of Salman Khurshid on Monday kicked up a political storm with parties suspecting the government of coming under corporate pressure and accusing it of promoting those facing corruption charges.

Activist-turned-politician Arvind Kejriwal sought an explanation from the central government as to why S Jaipal Reddy was shifted from the ministry of petroleum and natural gas.

"Jaipal Reddy is considered to be an honest minister and was removed. Salman Khurshid is charged with corruption and he has been promoted. So, the government is conveying a message that if a person indulges in corruption, he has better chances of being promoted in this government," Kejriwal said.

"I would ask Prime Minister Manmohan Singh what is the illegal work that Reliance is trying to get done. Because now, would Mr Moily (Veerappa Moily) fall to that pressure, and why has Jaipal Reddy been removed, I think, the prime minister should reply to the country," he added.

"Why did Jaipal Reddy lose his job? For resisting Reliance?...So, LPG and power prices set to rise," he tweeted.

Khurshid, who has denied the allegations of wrongdoing, said he would not like to comment on the issue regarding the NGO run by him and his wife because the matter is in court.

Seeking an answer from the government on Reddy's removal from the high-profile ministry, senior BJP leader M Venkaiah Naidu said the minister was a senior leader and considered an able Parliamentarian.

"A person like him was suddenly removed and was placed in unimportant science and technology (ministry). People and media are saying that this was done due to the pressure of industrial groups. The government should give an answer about this. This is an important issue. What was the reason behind his removal," he said.

In Sunday's cabinet re-jig by Prime Minister Manmohan Singh, Reddy was shifted from the petroleum ministry to the science and technology ministry and there was speculation that he was removed due to decisions which did not go well with certain big corporates.