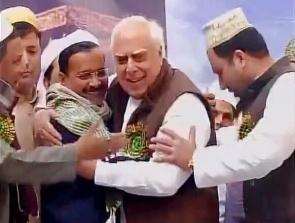 Rarely known to see eye to eye on any issue, ever since the days of the Jan Lokpal movement, Delhi Chief Minister Arvind Kejriwal and Union Minister Kapil Sibal on Tuesday greeted and embraced each other on the occasion of Eid Milad-un-Nabi at a Delhi mosque.
Having turned up in the morning for a function at Sheikhan mosque in Chandni Chowk area, Kejriwal and Sibal hugged each other and were seen exchanging pleasantries.
Sharing the dais with Sibal, Kejriwal assured locals that their grievances would be resolved. Sibal is the Lok Sabha member from Chandni Chowk constituency.
Kejriwal and Sibal were part of the joint drafting committee for the Lokpal Bill, which had seen sharp differences arising between the ministers and civil society representatives over a variety of issues.
When Sibal had just taken over as the new law minister, the Aam Aadmi Party had questioned the haste in which the law ministry had given its go ahead for a conciliatory out-of-court settlement in the Vodafone tax dispute case.
Kejriwal had alleged that the go-ahead had come as Sibal's son, Amit, was a lawyer for Hutch, which had sold its shares to Vodafone. Amit had denied those allegations, terming them "completely false".

Image: Arvind Kejriwal and Union Minister Kapil Sibal greet each other at a mosque in Delhi

Photograph: ANI/Twitter