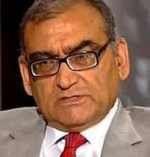 After seeking pardon for actor Sanjay Dutt convicted in a 1993 Mumbai blast case, Press Council of India chairperson Justice Markandey Katju on Wednesday said he would now appeal to the President to grant pardon to another convict Zaibunissa on humanitarian grounds.
Zaibunissa, 70 was convicted in the trial related to the 1993 Mumbai blasts case.
"I have now made up my mind that Zaibunissa also deserves pardon. I was earlier considering her case and I had to go through the judgement and other material. And now I have considered that and I am of the firm opinion that she also deserves pardon," Katju said.
The PCI chairman said he wanted pardon to be granted to Zaibunissa on humanitarian grounds as well as keeping in mind her medical condition.
Katju said she was an elderly person who also had undergone an operation and added that even the court had not found her guilty of conspiracy.
He said he would be writing his appeal on behalf of Zaibunissa, he added.
Katju said he intended to send a request to both the President of India as well as the Governor of Maharashtra as earlier there had been a controversy on whether the Governor had the powers as per the constitution.