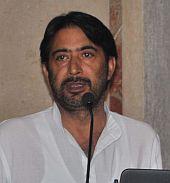 After going through an anxious period following the hanging of Afzal Guru, accused in the parliament attack case, the tourism industry in Kashmir is looking to reinvent itself.

The state tourism department is trying to project 'new Jammu & Kashmir' for the tourists.

As a part of this endeavour, state Tourism Minister Ghulam Ahmed Mir along with a delegation visited Pune and appealed everybody to look incidents in the Valley as a local disturbance.


Mir addressed a packed audience comprising tour operators and the media in Pune on Thursday.

It was part of a special tour taken up by the minister along with a delegation comprising Talat Parvez, director of tourism and local industry organization head. The delegation visited Ahmedabad, Mumbai and then Pune to promote the new destinations and schemes of the department under a campaign called 'Explore New Kashmir'.
"Maharashtra and Gujarat are the chief source destinations of tourists coming to Kashmir. While 18-20 per cent of all tourists coming to Kashmir come from Maharashtra, 16-18 per cent come from Gujarat. Two months ago, there were apprehensions about curfew being imposed in the Valley affecting the tourism."

"About 15-20 per cent bookings were cancelled from Maharashtra. However, Guru's hanging was a national incident and its repercussions were bound to be felt. Sporadic incidents took place in Hyderabad and New Delhi, and they are limited to those places. Similarly, any untoward incident in Kashmir state should be described in the context of that place," he said.
Mir assured that all tourist places in the Kashmir valley are as safe as any other place in India.

He said, "A decade ago, 10,000 tourists visited the Valley. Now, that figure has touched 13,00,000. This time, we are not looking at numbers but the way the tourism industry impacts lives of people."

With revenue of around Rs 500 crore, tourism industry contributes about 16 per cent of Jammu and Kashmir's GDP.
While interacting with the local tour operators, he said expressed gratitude towards Maharashtrians who supported Kashmir in tougher times.

Mir and Parvez highlighted new destinations developed specially for the tourists like Verinag, Duxum, Kokernag, SimthanPass, Wadwan valley, Lolab and other trekking passes.
Earlier, talking to a select gathering organized by Sarhad, the non-government organization, Mir said that his department is taking efforts to enhance the infrastructure of the state to cater to the growing demand.

He also hinted that Kashmir will develop a circuit of tourist places in association with Himachal Pradesh under the integration policy of the central government.