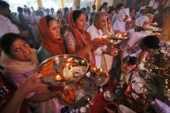 A bill related to preservation of Hindu temples, shrines and religious places in Jammu and Kashmir will be introduced in the ongoing Budget session of the assembly, a state minister said.
Minister for Law, Justice and Parliamentary Affairs, Mir Saifullah, shared the information during an interaction with a delegation from Pandit Prem Nath Bhat Memorial Trust, which called on him.
The minister told the delegation that the state government is committed in protecting and preserving places of worship and Hindu properties, particularly in the Kashmir Valley, adding that their demands will be looked into and the bill -- a long-standing demand of Kashmiri Pandits -- will be introduced during the ongoing session.
The members of the delegation included R L Bhat, T N Pandita, B L Bhat, Ravinder Raina, R L Pandita and B L Pandita.