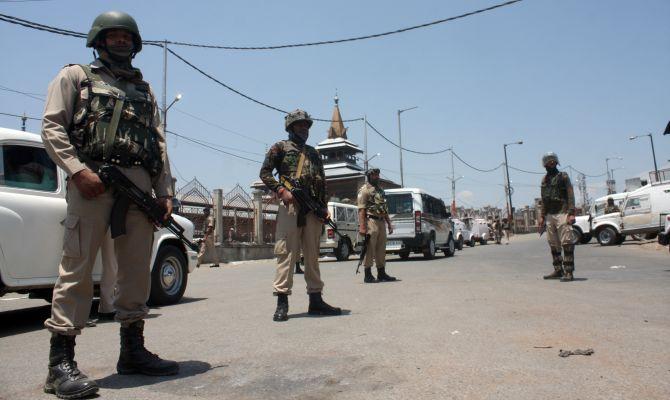 The situation in Kashmir remained tense but under control with authorities imposing curfew-like restrictions in most parts of the Valley on Sunday, fearing that the killing of Hizbul Mujahideen commander Sabzar Bhat would spark trouble in the state.
Barring a few incidents of stone pelting in Pulwama, Kulgam, Shopian and Sopore, the situation across the valley remained peaceful, a police spokesman said.
In Pulwama, the spokesman said a group of miscreants threw stones at a Central Reserve Police Force camp in Tahab.
800 Kashmiri youths appear for Army exam amid unrest
Defying the separatists' bandh call, nearly 800 Kashmiri youths appeared in the Army's common entrance exam in the Valley.
An Army official said 799 candidates appeared on Sunday in the common entrance examination for selection of junior commissioned officers and other ranks held at Pattan and Srinagar.
"It is a clear rejection of regressive bandh calls for choosing a brighter future," the official said.
He said 16 of the 815 candidates, who had passed the physical and medicals tests held earlier, did not turn up for the written exam.
Police and security forces used 'maximum restraint' while dealing with the situation at these places and stone pelters were dispersed, he said.
He said restrictions were imposed to maintain law and order in view of protests following the killing of Bhat and another terrorist in an encounter with security forces in Soimoh area of Tral in south Kashmir's Pulwama district on Saturday.
In Srinagar, restrictions were imposed in seven police station areas -- Khanyar, Nowhatta, Safakadal, M R Gunj, Rainawari, Kralkhud and Maisuma -- as a precautionary measure.
Restrictions were also been imposed in Anantnag, Pulwama and Shopian districts in south Kashmir and in Sopore town in north Kashmir, officials said.
They said restrictions on the assembly and movement of more than four people, under CrPC Section 144, were imposed in Budgam and Ganderbal districts in central Kashmir.
At least 30 people were injured in violent clashes between protesters and security forces in various parts of the valley following the killing of the two Hizbul Mujahideen terrorists.
A civilian was also killed allegedly in cross-firing between terrorists and security forces during the encounter on Sunday.
Bhat was buried this morning at his native Ratsuna area in Tral where hundreds of people had gathered.
The funeral remained peaceful, the officials said.
Meanwhile, normal life elsewhere in the valley remained affected due to a two-day strike called by separatists to protest the killing of the two terrorists and the alleged use of 'brute force' against protesters.
The separatist trio -- chairmen of both factions of Hurriyat Conference, Syed Ali Shah Geelani and Mirwaiz Umar Farooq, and Jammu and Kashmir Liberation Front chief Yasin Malik -- also called for a march to Tral on Tuesday in protest against the killing.
Malik was arrested from his residence here today, while Geelani and Mirwaiz were under house detention.
The authorities suspended mobile internet services in the valley, while the outgoing call facility on prepaid numbers has been snapped as a precautionary measure.
Farooq demands Governor's Rule
Former Jammu and Kashmir chief minister Farooq Abdullah called for the immediate imposition of Governor's rule in the state, stressing that it was the only way to control communal tension in the country.
"We have never been promoters of Governor's rule; we have always opposed it. But there is no other way," Abdullah, the newly elected MP from Srinagar, said.
The National Conference chief, who was recently called to New Delhi by Prime Minister Narendra Modi for a discussion on Kashmir, said Modi wanted a 'peaceful end' to the situation in the state, reeling under unrest for months.
"I can't tell you what I discussed with the prime minister. All I can say is that he is concerned about the situation in the state and wants to an end to it. A peaceful end to it," he said.
The former chief minister, accusing the Mehbooba Mufti government of 'failing on all fronts', said not just south Kashmir, the entire Valley was in the grip of 'tragedies'.
"These tragedies are adding to communal tension in the rest of the nation. So the quicker we settle this problem, (the quicker) would we be able to control the fire which is coming to a boiling stage," Abdullah said.
He also appealed to fringe elements in the Bharatiya Janata Party to not make 'any provocative statements' on Kashmir.
"Let there be one voice. When the Prime Minister himself wants peace, others should listen to that," he said.
IMAGE: Security personnel stand guard during a curfew imposed in Srinagar on Sunday. Photograph: Umar Ganie/Rediff.com