42 terrorists, 7 civilians, 15 security personnel have lost their lives since May 15.
Umar Ganie reports for Rediff.com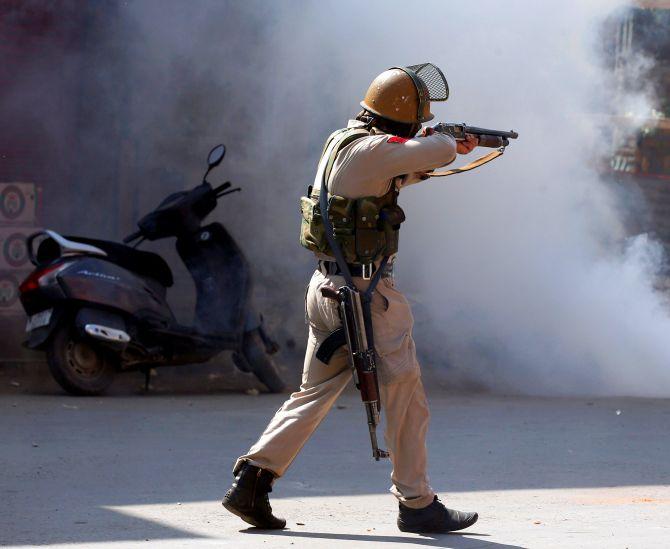 IMAGE: A policeman aims a tear gas gun at demonstrators in downtown Srinagar during protests.
Photograph: Danish Ismail/Reuters
Ramzan in the Kashmir valley has been deadly this year with 64 people --- soldiers, policemen, civilians and terrorists --- being killed during the holy month.
Perhaps the most brutal of the deaths was Deputy Superintendent of Police Mohammed Ayoub Pandith's lynching outside the Jamia Masjid in Srinagar.
The police officer was stripped and beaten to death on June 22, the most auspicious night of the holy month.
The spike in violence corresponded with the death of Sabzar Bhat, who succeed Burhan Wani in the Hizbul Mujahideen, along with another HM member, in an encounter with security forces in Tral on May 27.
According to figures, 42 terrorists, seven civilians and 15 security personnel (five army men and 10 policemen) lost their lives during the unrest in the Kashmir valley in the Ramzan month.
Sixteen terrorists were killed in encounters across Kashmir. The army said it killed 26 terrorists along the Line of Control in north Kashmir.
On June 13, within a span of four hours, nine Central Reserve Police Force troopers, two policemen and four soldiers were injured when terrorists lobbed grenades at the camps of the forces at Baramulla and in Pulwama.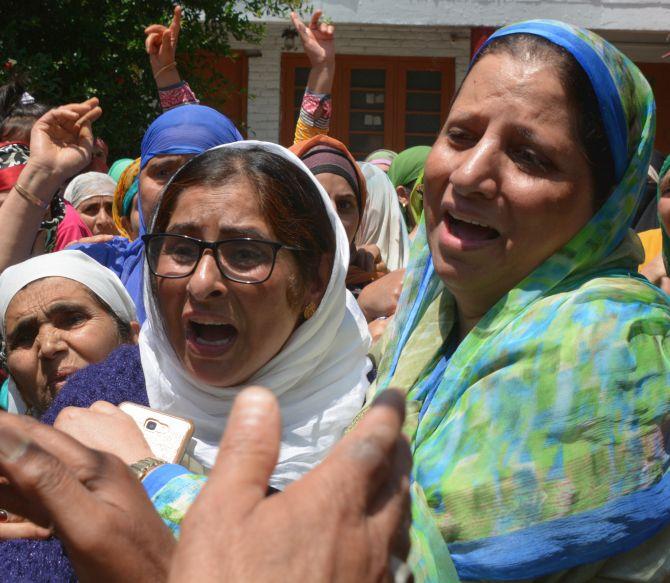 IMAGE: Deputy Superintendent of Police Mohammed Ayoub Pandith's family weeps after learning of the police officer's lynching on June 22. Photograph: Umar Ganie for Rediff.com
Jammu and Kashmir Director General of Police S P Vaid said accused Pakistan of sending terrorists to "instigate violence" during Ramzan.
"Ask Pakistan and the terrorists why they initiate violence," DGP Vaid said. "I am here to control it."
National Conference General Secretary Ali Mohammad Sagar holds the ruling Peoples Democratic Party-Bharatiya Janata Party coalition government responsible for the mayhem.
"How will the situation be peaceful when a large number of youth, many of them highly educated, join the militant cause?" Sagar asked, adding that the PDP-BJP coalition is contributing to this grave situation.
"The state and central governments are issuing statements which add fuel to the fire," Sagar said, "and forcing the people to protest."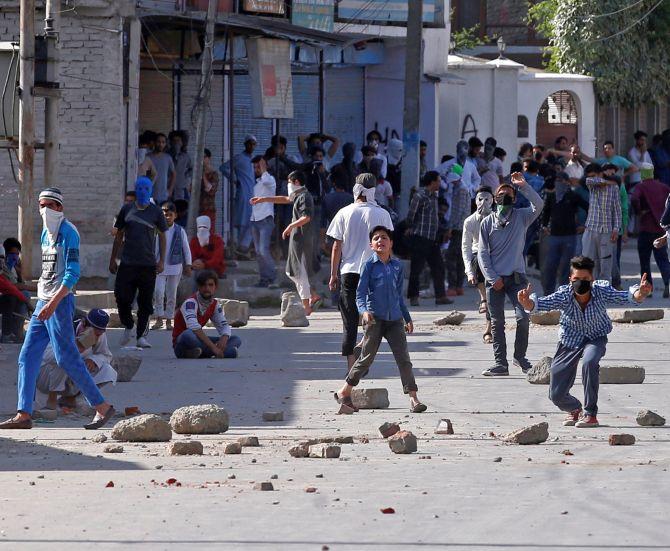 IMAGE: Protesters in Srinagar have taken to pelting stones at the security forces. Photograph: Danish Ismail/Reuters
PDP Vice-President Sartaj Madni attributed the violence to the recent phenomenon of Kashmiris gathering at locations where security personnel are engaged in firefights with the terrorists and pelting stones at the security forces.
"The government is aware of the situation," Madni said, "but the unfortunate part for every one of us is that people are going to encounter sites; it makes no sense."
While the politicians continue the blame game, Showkat Ahmad, a resident of Sanat Nagar in Srinagar, said, "It is unfortunate we are facing tremendous hardship even in the holy month of Ramzan. During Ramzan we seek blessing from God."
"Drawing blood during this month is totally against the principles of Islam," Ahmad said.
"No religion allows killings. Those who resort to violence are enemies of humanity."