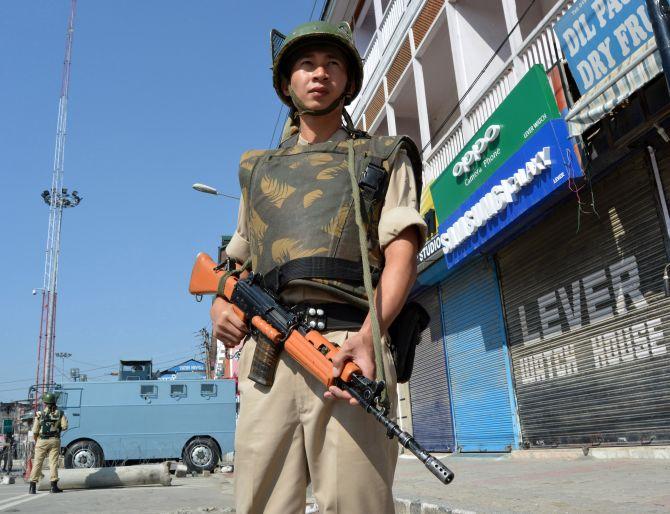 Curfew in parts of Srinagar and restrictions in the rest of Kashmir continued on Monday as normal life in the Valley remained paralysed for 59th day due to the violent protests that followed the killing of Hizbul Mujahideen militant Burhan Wani in July.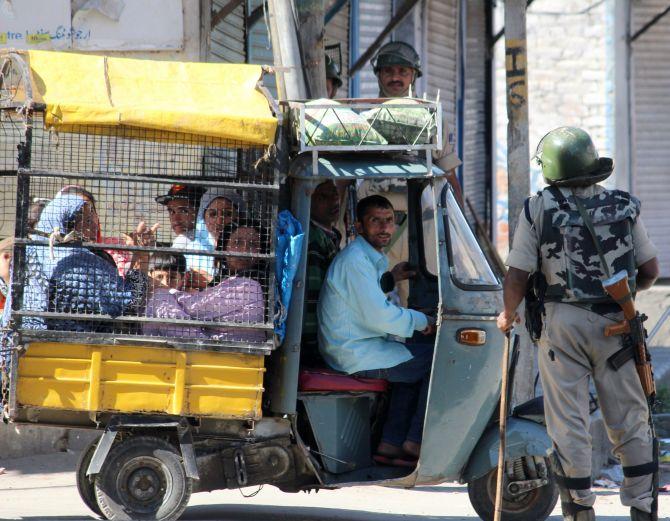 IMAGE: Security personnel stops family in a load carrier during the 59th day of curfew at Sakidafar in Srinagar. Photograph: Umar Ganie
"Curfew has been imposed in seven police station areas of Srinagar city today," a police official said.
He said while the curfew continued in five police station areas in downtown locality of the city, the curbs were imposed in Batamaloo and Maisuma areas in uptown city this morning.
"This has been done to maintain law and order," the official said.
He said curfew-like restrictions on the movement of people were in place in the rest of the Valley.
"Security forces have been deployed in strength in sensitive areas to maintain law and order," the official said.
More than 200 persons were injured in clashes between protestors and security forces in the Valley on Sunday even as an all party delegation was here to assess the ground situation.
While the delegation met mainstream political parties and other civil soicoety members, the separatist groups refused to talk to them.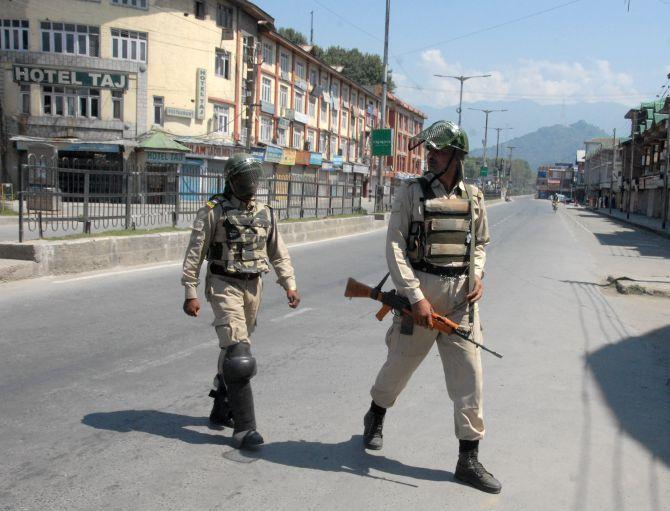 IMAGE: Jawans patrol the streets and keep vigil on the 59th day of curfew Kashmir. Photograph: Umar Ganie
Meanwhile, normal life remained affected in Kashmir due to the separatist sponsored strike on 59th day.
Shops, business establishments and petrol pumps continued to remain shut during the day time.
Schools, colleges and other educational institutions also continued to remain closed.
However, the attendance in government offices and banks has showed signs of improvement since the past few days, the official said.
Public transport continued to be off the roads.
The separatists have extended the shutdown programme till September 8.
As many as 71 persons, including two police personnel, have been killed and several thousand others injured in the clashes between protesters and security forces in the Valley since Wani was killed in an encounter in south Kashmir on July 8.