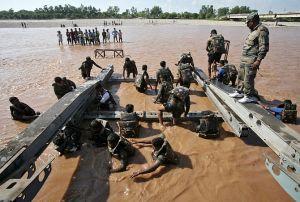 Army Chief Gen Dalbir Singh Suhag on Wednesday said the forces would continue to work through "day and night" to render relief to the affected people in Kashmir.
He said the flood situation in Kashmir is "improving" and stressed upon the need to supply affected people with food, water and medicine.
In the state capital to oversee the massive rescue exercise launched by the Army, he expressed confidence that situation will improve "quite a lot" in two to three days.
"It (situation) is improving. Water level is receding. I was here three days back and from then to now the water level has come down four to five feet or six feet at some places. So things are improving," he told reporters.
Suhag, however, emphasised on the need to carry relief material to the rescued people.
"What is required is we need to supply food, water and medicine to people who need that," he said, adding that Army was taking full care of people under its watch and augmented its medical facilities to meet the challenge.
He said the road network within the valley would be motorable for lighter vehicles by Thursday and the broken-down communication network be restored to a large extent in two to three days.
Army had rescued close to 50,000 people by Wednesday morning, he added.
The Chief of Army Staff (COAS) reiterated that the Army would continue relief operations till the last person was rescued, a Defence spokesman said.
The COAS was briefed that as many as 239 army columns have been deployed in Jammu and Kashmir along with 80 medical teams, he said, adding that a total of 58,000 persons have been rescued and 9,550 provided medical aid in Kashmir.
In Srinagar, the Army has deployed additional 89 boat teams, he said.
So far, more than 9,500 persons have been rescued from Srinagar and 2,000 have been provided shelter in Badamibagh Cantonment, he added.
As many as 355 persons requiring immediate medical attention have been evacuated by Army Aviation helicopters till now, the spokesperson said.
Image: Indian Army soldiers build a temporary bridge across the river Tawi, near the existing bridge which was swept away by floodwaters from the river Tawi, on the outskirts of Jammu. Photograph: Mukesh Gupta/Reuters