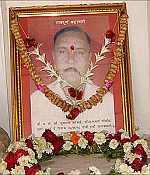 In a daredevil act, Assistant Police Sub Inspector Tukaram Omble, caught Ajmal Kasab alive. On the day the 26/11 gunman was hanged, the slain cop's brother said that he had been waiting for his moment for four long years.
Eknath Omble, the younger brother of Assistant Police Sub Inspector Tukaram Omble, who died while trying to capture Ajmal Kasab expressed satisfaction over the hanging of the 26/11 gunman on Wednesday. He told
rediff.com
that he had been waiting for this moment for "four long years".     
"The entire nation should consider Kasab's hanging as a true
shradhanjali
(tribute) to all the soldiers, including cops, and the innocent people of Mumbai killed during the 26/11 attacks."
He said that Omble's daughter Vaishali, her mother Tarabai and youngest sister Bharti, who is working in the clerical department of the Worli RTO, have switched off their phones as any discussion about 26/11 terror attacks and his (Tukaram's)
martyrdom makes them cry profusely.
"When I called Vaishali this (Wednesday) morning after hearing about Kasab's hanging her phone was switched off," said Eknath. He added that the family was safe and wanted to avoid interacting with the media.
Eknath said he last met Vaishali four days ago, but nobody broached the 26/11 terror attack topic. "They get disturbed when they speak about 26/11," he added.
According to Eknath, the family has still not overcome the tragedy that struck them on night of 26/11.
Vaishali is currently pursuing her M.Ed for the Mumbai University.
Efforts by this correspondent to get in touch with Vaishali proved futile.
Image: A garlanded portrait of slain policeman Tukaram Omble