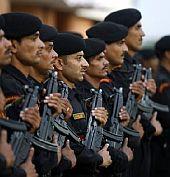 Former National Security Guard Commando P V Maneesh, who had suffered serious head injuries in the Mumbai 26/11 terror attack, said Ajmal Kasab's hanging will increase the "morale and courage" of soldiers who risk their lives to protect the Nation's interests.
"Like all Indians, I also feel very happy hearing about his hanging," he told PTI when contacted from Kochi.

"This verdict will increase the morale and courage of each soldier as Kasab was awarded appropriate sentence," he said.
Maneesh, who was at the holy shrine of Lord Ayyappa at Sabarimala early today to offer worship, heard about Kasab's hanging as he came out of the temple complex.
Since the past four years, he has regularly been offering worship at the temple.
Hailing from Kannur, Maneesh, who was attached to the NSG's elite 51 Special Action Group, was part of the team that took on terrorists at the Oberoi Hotel. He was seriously injured in a grenade blast and still has a piece of shrapnel lodged on the left side of his head.
A small part of his skull was blown away in the blast as three shrapnels had pierced into his skull. While two were removed, he said he still has a 11 mm piece inside his head.

Doctors have said it cannot be removed as it would endanger his life, he said.
Maneesh, who is paralysed on one side and suffers fits, is presently undertaking ayurvedic treatment, and is now attached to the 122 T A Battalion at Kannur.