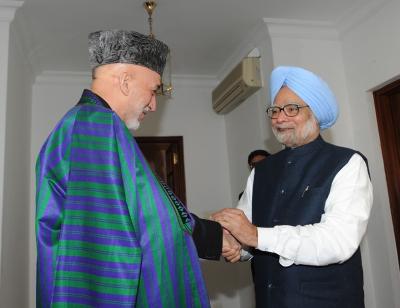 With the United States planning troops withdrawal by next year, Afghan President Hamid Karzai is believed to have pressed India on Friday for stepping up military aid including lethal and non-lethal weapons amid indications that the government was not averse to the Afghan leader's demand which could be met depending on the country's capacity.
Karzai, who is here on a four-day official visit, had meetings with top leadership including Prime Minister Manmohan Singh, whom he briefed on the situation in his country.
External Affairs Minister Salman Khurshid also called on the visiting dignitary. According to officials, "The demand was being considered taking into account various factors including two major issues -- our ability to supply based on our surpluses and licensing from other countries e.g if India is to supply a Russian-tank, it would require the permission and license from Russia to do so."
During the meeting with Karzai, Singh raised the issue of Afghan-US Bilateral Security Agreement with America hoping that India can help persuade him to sign a deal allowing US troops to stay on post-2014.
"Yes. It (BSA) was discussed because we feel our destinies are intertwined. Both India and Afghanistan see the BSA as important for the stability and security of Afghanistan," the spokesperson in the external affairs ministry said.
Noting that India's approach to Afghanistan has always been one of "not being prescriptive or intrusive or judgemental", he said, "Therefore, this is the paradigm to which we will approach the matter (of BSA). We are confident that President Karzai is a sagacious and wise leader and he will do what is best for the people of Afghanistan. As a close and steadfast friend of Afghanistan and in accordance with India's approach towards Afghanistan, we will support it," the spokesperson said.
Karzai has refused to ink the proposed Afghan-US security pact demanding that the US must put an immediate end to military raids on Afghan homes and demonstrate its commitment to peace talks before he would sign the agreement.
Ahead of the visit, Afghan Ambassador to India Shaida M Abdali had said, "President Karzai will apprise the Indian leadership of what is going on right now in Afghanistan. And he will specially discuss the three important issues -- Afghanistan's negotiation on the BSA with the US; the peace process and then the transition process and also to consult what would be the way ahead for us."
Image: Prime Minister Dr Manmohan Singh meets the President of Islamic Republic of Afghanistan Hamid Karzai in New Delhi.
Photo courtesy: PIB