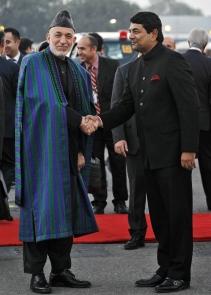 Afghan President Hamid Karzai on Thursday arrived in New Delhi on a four-day visit during which he will hold talks with Prime Minister Manmohan Singh and press for stepping up of aid -- both civilian and military including lethal and non-lethal weapons.
The visit also comes in the backdrop of Karzai refusing to ink proposed Afghan-United States security pact demanding that the US must put an immediate end to military raids on Afghan homes and demonstrate its commitment to peace talks before he would sign the agreement.
Ahead of the visit, Afghan Ambassador to India Shaida M Abdali said, "President Karzai will apprise the Indian leadership of what is going on right now in Afghanistan. And he will specially discuss the three important issues -- Afghanistan's negotiation on the BSA with the US; the peace process and then the transition process and also to consult what would be the way ahead for us."
According to sources, the US was hoping that India could help persuade Karzai to ink an agreement for some US troops to stay in Afghanistan after 2014.
According to President Karzai's office, during his four-day visit, the Afghan leader is scheduled to meet Singh, External Affairs Minister Salman Khurshid and other Indian officials to "discuss ways to enhance bilateral relations and cooperation between the two countries".
Significantly, Karzai in his last meeting with Singh had sought greater support in military supplies -- both lethal and non-lethal, a demand which is being considered by the government.
According to officials, "the demand was being considered taking into account various factors including two major issues -- our ability to supply based on our surpluses and licensing from other countries e.g if India is to supply a Russian-tank, it would require the permission and license from Russia to do so."
On Karzai's weapon "wishlist", Abdali had said, "The discussion in pursuit of our list that was presented is an ongoing process, technical teams meet on regular basis, list is always being looked at and we have heard India loudly that India will do anything available within the limits that they have and we fully respect that."
Image:Afghanistan's President Hamid Karzai shakes hands with India's Minister of State for Home Affairs R P N Singh upon his arrival at the airport in New Delhi.
Photograph: Stringer/Reuters