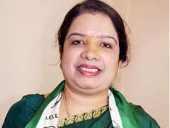 Women politicians do not always receive adequate representation in Indian legislatures. The situation is not very different in Karnataka politics.
The Congress has only eight women candidates in the first list while the Bharatiya Janata Party has four and the Janata Dal-Secular has three. The representation is not likely to increase even in the forthcoming lists given the number of powerful male candidates in the fray.

Coverage: Battleground Karnataka
Vimlabhai Deshmukh, a JD-S candidate from Muddebihal constituency in Bijapur district, stands out in the male-dominated world of Karnataka politics. In the last four state elections, she has contested from the same constituency four times and won only once. Vimlabhai's husband is the late J S Deshmukh, who served as the energy minister in the state cabinet led by Ramakrishna Hegde.
Incidentally, Hegde had contested the assembly elections four times and had won it only once. Vimlabhai, 64, says that it is not only about winning.
"I love my constituency. Whether I win or not, I can work for the people here. I contested this seat for the first time in 1994 after the death of my husband. I am appalled by the fact that political parties still believe that only men can work for their constituencies. Despite 33 per cent reservation for women, the number of women candidates is very negligible. A woman is capable of working well for her constituency and if given a chance, a honest candidate can do wonders," she said.
Vimlabhai is the only woman politician in Karnataka who has held on to her constituency for such a long time.
Karnataka Janata Party leader Shobha Karandlage had earlier contested from the Yeshwanthpur constituency but shifted to Rajajinagar this time. She wants to defeat BJP leader Suresh Kumar who, she believes, was one of the people responsible for the downfall of her mentor and former chief minister B S Yeddyurappa.
Janata Dal-Secular leader Anitha Kumaraswamy contested for the first time from Tumkur Madhugiri in 2008 and won the elections.
This time, she will contest from Channapatana neighbouring Ramanagar, from where her husband H D Kumaraswamy is contesting the elections.
The JD-S has a better chance of winning in this region due to the pro-JDS wave generated by the Cauvery water dispute.

Image: Janata Dal-Secular leader Anitha Kumaraswamy