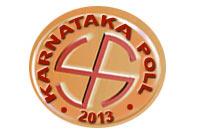 The poll process began in Karnataka on Wednesday for the May 5 assembly polls with the notification being issued, paving the way for candidates to file nominations.
The last day for filing nominations is April 17, with scrutiny of papers the next day and the last day for withdrawal on April 20.
Main political parties -- the Bharatiya Janata Party (175), Congress (177) and Janata Dal Secular (122) -- are yet to announce candidates for all the 224 seats, while there are new entrants such as Karnataka Janata Paksha of former Chief Minister B S Yeddyurappa (143) and BSR Congress floated by former BJP Minister B Sriramulu (124).
Barring a few exceptions, the BJP, Congress and JD-S have largely given tickets to the sitting MLAs. Some 30 BJP MLAs crossed over to other parties, mostly to the KJP.
With hard lobbying by ticket aspirants, the Congress is finding it hard to finalise nominees for the remaining 47 seats, including sons of senior leaders M Mallikarjuna Kharge, N Dharam Singh and daughter of K H Muniyappa.
All eyes are also on BJP on whether the party would give tickets to tainted MLAs -- Katta Subramanya Naidu, Y Sampangi, Krishnaiah Setty. It will also be interesting to see if Bhavani, wife of JD-S leader H D Revanna, who is the son of former Prime Minister H D Deve Gowda, would make her electoral foray.
The arrival of senior BJP leader Arun Jaitley to fine-tune the party's poll and campaign strategy has boosted the morale of state party leaders, who have been worried about the anti-incumbency factor to some extent.
It was Jaitley, also leader of opposition in the Rajya Sabha, who played a key role in the party's strategy in the 2008 elections, leading to installation of the party's first won government in south India.
Top candidates in the elections include Chief Minister Jagadish Shettar, Deputy Chief Ministers K S Eshwarappa and R Ashoka and former Chief Ministers Yeddyurappa and H D Kumaraswamy (JD-S).
Counting of votes will be held on May 8.
While 36 constituencies are reserved for SCs, 15 are reserved for STs in the state.