Most schoolboys the world over would probably be delighted to do what Dhanvi Reddy and Chandan Prasad of Bangalore plan to do: send their principal into space!
But none of them would have gone so far as to design and manufacture a rocket for that purpose.
This weekend, the two Class XII students of Bishop Cottons Boys' School in Bangalore hope to launch a small rocket that they themselves made. It is named Ebender, after their school principal Dr Abraham Ebenezer.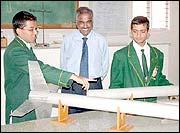 Ebender is 10 feet long and about three inches wide. It weighs about seven kilograms and is expected to travel about five kilometres in a 12-minute long flight in which it is expected to reach an altitude of about 3.5 kilometres, depending on prevalent atmospheric conditions.
Was their aim to pack their principal off to the far end of the universe? "Of course not," the boys protested. "We named it after our principal to express our gratitude for his efforts in helping us with the project."
The rocket was born two years ago when the boys began work on what they describe as their dream project, in secret.
How did they come up with the design?
"We got the basics of the technology from the website of Canadian scientist Richard Nakka," says Prasad. "Our primary intention was to put information gathered in class into actual practice."
All the material they needed to manufacture the rocket was available in S J P Road, the Mecca for all engineering tools, engine parts and wiring, in Bangalore.
They raised money by dipping into their pocket money and through contributions from their family.
Eventually, they confided in their student counselor, Indrani Sudarshan, who, in turn, told the principal.
"I was pleasantly surprised to learn about this project that my boys had embarked upon," says Dr Ebenezer proudly. "I decided to help them get their rocket off the ground and into space."
Was it a healthy respect for Dr Ebenezer's cane that made the boys keep their 'dream project' a secret for all of two years? "No," they grin now. "It was just that we never imagined that we would actually be able to build a working rocket. We were keeping it to ourselves until we saw whether it reached some kind of concrete shape."
And just who is this lovable Dr E? He is an ex-government official, who served as a Karnataka Administrative Services officer before turning to academics. He served as deputy director of the Department of Collegiate Education before taking over as principal of Bishop Cottons, one Bangalore's premier boys' schools. Ebenezer is known to be a considerate but strict man who students respect.
After their principal began taking an interest in their project, the almost-ready rocket was shifted to the physics lab of the school.
| | |
| --- | --- |
| | Also Read |
| | |
Ebenezer got clearance for the rocket to fly from the Director General of Civil Aviation and Air Traffic Control.
A delighted DGCA R K Maheshwari okayed the project at once, adding that he had not seen anything of its kind over the past quarter of a century or more! He told Ebenezer that he considered the project truly inspirational.
Four scientists from Indian Space Research Organisation also inspected the rocket and said it seemed to be a viable one.
It had cost the two boys just Rs 12,000.
Boodhigere near Hoskote, on the outskirts of Bangalore, was identified as the launch site. The Bangalore police inspected the site and took the local population into confidence to ensure that the launch would not cause any law and order problems.
| | |
| --- | --- |
| | Also Read |
| | |
At the same time, ISRO has offered its launch sites at Thiruvananthapuram (in Kerala) and Sriharikota (in Andhra Pradesh) to the boys, should the need arise.
While Ebenezer hopes that ISRO bigwigs will watch the launch, it appears the whole country might also want to join them.
Not surprisingly, both boys want to study aerospace engineering. Chandan Prasad's father is a farmer in Ramanagaram, on the outskirts of Bangalore. Prasad stays in a hostel in the city. Dhanvi Reddy lives with his mother.
Both say their parents have given them invaluable encouragement and support. Prasad's father, for example, found him the man who manufactured the rocket merely by looking at the blueprint.
Their families now hope that they will join the echelons of the school's distinguished alumni, like nuclear scientist Dr Raja Ramanna and Infosys co-founder Nandan Nilekani.
Before that, on December 12, the scheduled date for the launch, India can expect to see two of its young students turn into inspirational figures.