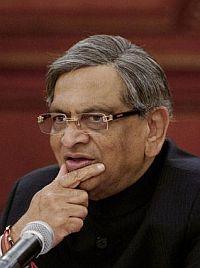 Vicky Nanjappa reports on why Congress leaders in Karnataka want S M Krishna to campaign for them

Former Karnataka Chief Minister S M Krishna is back on the streets campaigning for the Congress for May 5 assembly elections in the state.

Krishna may not be an aspirant for the post of chief minister in case the Congress comes to power in Karnataka, but many state leaders loyal to him had requested him to campaign as they feel that he could swing the Vokkaliga votes to some extent.

More importantly, they feel that he may make a difference in the IT community of Bengaluru for he had earned the tag of hi-tech chief minister during his tenure.


However, Krishna will not go on an extensive campaign this time. He would be largely restricted to Bengaluru. He commenced his campaign at the Vijaynagar constituency in the city.

On commencing his campaign, Krishna said that he believed in Vijay (Victory) and hence chose this constituency to begin campaigning.

Krishna will also be seen at the Sarvagna Nagar in Bengaluru on Monday.

The Congress leaders are expected to ask him to canvas at Tumkur, Mandya and Mysore.


It appears that the Congress is using his resources largely in the Bangalore-Mysore-Mandya belts due to the large number of Vokkaligas in this area. Moreover, Krishna is a native of Maddur, which is around 80 kilometres from Bengaluru.

Krishna will be up largely against the Janata Dal-Secular, which is confident of making inroads in this region. The JD-S had positioned itself as a party of Vokkaligas. The JD-S is also banking on the Cauvery water issue on which it often accuses both the Congress and the Bharatiya Janata Party of not doing enough for Karnataka.

Krishna will have to battle this issue when he campaigns in this belt where the river water issue is of prime importance.


It may be recalled that when Krishna faced the elections following the end of his tenure as chief minister, he had not contested from his home town of Maddur. This was largely to do with the handling of the Cauvery waters issue. He had contested and won from the Chamrajpet assembly constituency in Bengaluru city.
Krishna, who does a lot of road shows, has only been targeting the BJP in the state.

'The ruling party is in tatters today and the BJP cannot provide any stability. There have been three chief ministers in the past five years. Only the Congress can provide good governance and stability,' he says.


However, Krishna is not a crowd puller like Congress Legislature Party leader Siddaramaiah.