IMAGE: Sacked Delhi minister Kapil Mishra during an indefinite hunger strike at his residence in New Delhi. Photograph: Manvender Vashist/PTI Photo
Sacked Delhi minister Kapil Mishra on Wednesday started an indefinite hunger strike, demanding that the Aam Aadmi Party divulge details of foreign tours undertaken by five leaders of the party which, in turn, accused him of following a script penned by the Bharatiya Janata Party.
Mishra, who was removed as a minister and expelled from the party, shot off a letter to Delhi Chief Minister Arvind Kejriwal, asking how the leaders had made these trips despite the party's "fund crisis".
Mishra, who kicked up a storm when he said he'd seen Kejriwal "accept Rs 2 crore in cash" from Public Work Department Minister Satyendra Jain, had yesterday submitted three complaints to the Central Bureau of Investigation about AAP leaders indulging in graft and other irregularities.
The Karawal Nagar MLA said he would drink only water as part of his "Satyagraha" till the tour details were made public. He sat on the dharna at his official residence, with a photograph of Mahatma Gandhi in the backdrop.
He claimed the people would "topple" the Kejriwal government if the details of foreign trips by Minister Jain, senior leader Sanjay Singh, party treasurer Raghav Chadha, youth leader Durgesh Pathak and journalist-turned-politician Ashish Khetan were made public.
"I am not demanding anyone's resignation. I only want details of the foreign trips made by these five people. We were always told there was no money to fight polls then how did these people go on foreign trips," Mishra asked.
Singh and Chadha trashed the allegations. Khetan did so in a roundabout way while Durgesh and Jain did not respond to Mishra's charges.
"I visited Canada and US for party work. I had gone to Russia with Ashutosh (party leader) for a wedding. My Nepal trip was for relief work in the aftermath of the earthquake there. The language he (Mishra) is speaking is of the RSS and BJP," Singh said.
Meanwhile, in a series of tweets, Chadha said: "My foreign travels whilst in public life or prior to that have never been funded by the Central Govt, Delhi Govt or AAP. Probity, propriety and integrity are the hallmarks of political life, which I take very seriously. I will not respond to ridiculous allegations stemming from compromised individuals."
Khetan, who also took to Twitter, said: "I learned long ago, never to wrestle with a pig. You get dirty, and besides, the pig likes it."
Mishra, whose mother is a former BJP mayor, said instead of tagging him as a "BJP agent", the AAP should come up with specific answers.
He said he would record a "detailed" statement on the Rs 400-crore tanker scam in the Delhi Jal Board with the Anti- Corruption Branch on Thursday.
The AAP government had in June 2015 set up a fact-finding committee to look into alleged irregularities in procuring around 385 stainless steel water tankers by the DJB.
In June last year, it sent the panel's report to then Lieutenant Governor Najeeb Jung, following which an FIR was registered in the matter.
Man tries to attack Mishra at dharna site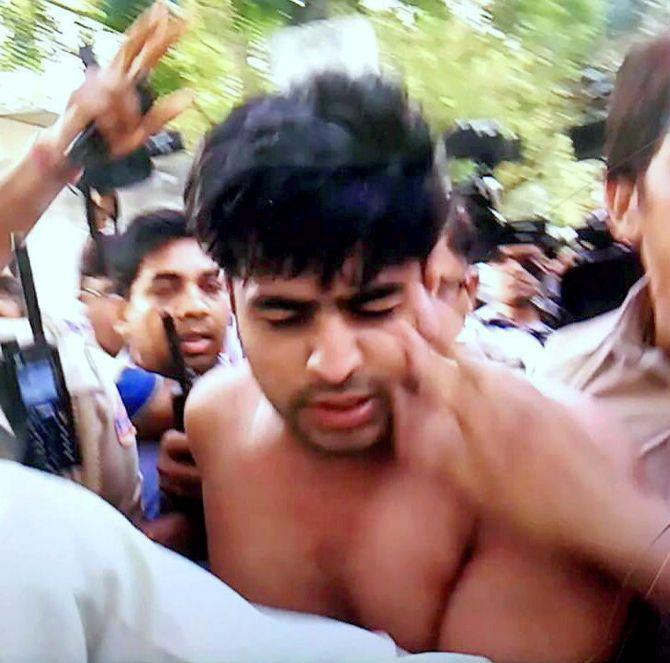 IMAGE: Police take away Ankit Bhardwaj who attacked Mishra during his hunger strike. Photograph: PTI Photo
A man claiming to be an Aam Aadmi Party worker allegedly attacked Mishra during his hunger strike.
The AAP, however, has rejected the man's claim of affiliation with it.
Ruckus ensued at the protest site where the man, identified as Ankit Bhardwaj, jumped on Mishra before police officials and his aides caught hold of him.
Mishra did not comment on whether Bhardwaj is a volunteer of the party, as claimed by him.
However, he said the man had threatened to kill him.
"The guy came running, put his hands on my neck and said he would kill me. My aides caught hold of him and the police came and whisked him away," said Mishra.
Bhardwaj, while being whisked away by the police, told reporters that he attacked Mishra because "he has betrayed the party".
"Nobody has sent me here, I have come on my own. I am an AAP worker," Bhardwaj claimed.
The AAP has said Bharadwaj has no link with it and is working for the Bharatiya Janata Yuva Morcha, the youth wing of the Bharatiya Janata Party.
The BJYM has also denied having any link with Bharadwaj.
Police said he was sitting on the hunger strike and suddenly stood up when doctors came for Mishra's medical check-up.
They, however, maintained that no attack has taken place.
"He was sitting there. When Mishra's medical check-up was underway, he stood up and shouted, 'Why are you doing this?' He has been whisked and further investigation is underway," said a senior police officer.