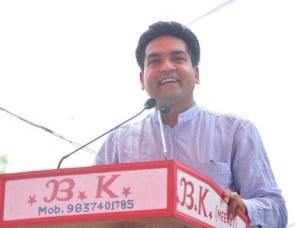 Delhi Jal Board vice-chairman Kapil Mishra, 34, was on Wednesday named as the new law minister replacing Jitender Singh Tomar who had resigned from the post on Tuesday night following his arrest on charge of possessing fake degrees.
"I had a meeting with Arvind ji (Kejriwal) and have been informed about the development (of appointment as the law minister)," Mishra, a first time member of Legislative Assembly, told PTI.
Other names which were discussed were Chandani Chowk MLA Alka Lamba, former law minister Somnath Bharti (Malviya Nagar) and Kailash Gahlot, legislator from Najafgarh.
Mishra's name was also doing rounds for a ministerial berth when the Aam Aadmi Party had won a landslide victory in February this year. However, he was made the vice-chairman of the DJB.
Known as a Kejriwal loyalist, Mishra has been associated with him since the India Against Corruption days. When Yogendra Yadav and Prashant Bhushan upped their ante against the party leadership, he took a lead in starting a signature campaign urging all MLAs to back Kejriwal.
Mishra, a former activist with an international organisation, won from Karawal Nagar by a margin of over 44,000 votes and took oath in Sanskrit in the Delhi Assembly.
Tomar was arrested on Tuesday for allegedly forging his science graduation and law mark sheets and a migration certificate. He was sent to four days police custody by a court.
He had sent his resignation letter through his lawyer from lock-up to the chief minister on Tuesday night which was accepted.