The bandh called by Dravida Munnetra Kazhagam-led opposition parties to condemn police firing at Tuticorin in which 13 people lost their lives and press for Chief Minister K Palaniswami's resignation passed off peacefully on Friday.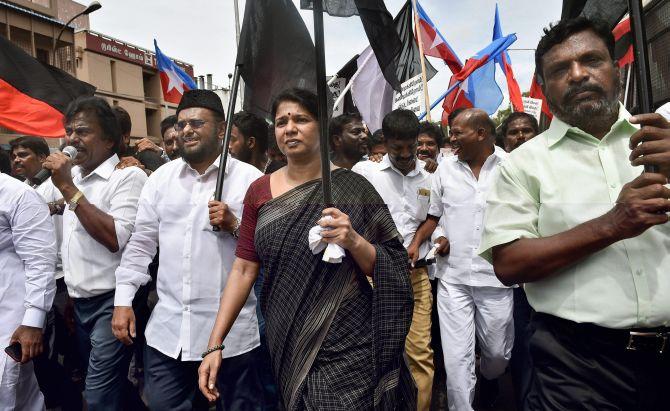 Demonstrations by DMK, its allies Congress, Indian Union Muslim League and other parties like Marumalarchi Dravida Munnetra Kazhagam, Viduthalai Chiruthaigal Katchi, Communist Party of India, and Communist Party of India-Marxist were staged across Tamil Nadu and neighbouring Puducherry.
State-run transport corporation buses, autos, taxis and trains operated as usual while banks, hotels, commercial establishments and markets were open.
Attendance in government and private establishments was normal, officials said.
In Tuticorin, barring a stray incident of a bus being set ablaze, no fresh violence was reported on Friday and the port city appeared to limp back to normalcy with operation of buses to select destinations like Tirunelveli beginning on Friday with police security.
The vegetable market also opened.
Prohibitory orders, however, continue to be in place in Tuticorin.
Police on Friday deployed drones for monitoring the situation as part of efforts to maintain law and order, even as a bus was torched by unidentified persons.
The drones were used in select locations for effective monitoring, to enable the police personnel to take swift action to prevent untoward incidents, a district official said.
While calm prevailed in the city, miscreants set fire to the bus at nearby Karungulam after asking the passengers to get down, he said.
The bandh call evoked good response in several regions falling under Kanyakumari and Tirunelveli districts, adjoining Tuticorin, besides Coimbatore, Tirupur and
Tiruvarur.
Though most shops, retail outlets and commercial establishments were closed in such regions, public transportation was not affected.
In Congress-ruled Puducherry, normal life was hit. All shops and establishments, restaurants, cinema houses, vegetable and fish markets remained closed. Autos, private and Puducherry government run buses were off the roads.
DMK Working President M K Stalin said such protests would continue till Palaniswami quits and demanded that government make an official announcement that the Sterlite plant would be shut permanently.
Protests would be held till such an official declaration was made, he told reporters at a hall where he was lodged by police after he led a protest at Madurantakam in Kancheepuram district.
He alleged that those in the All India Anna Dravida Munnetra Kazhagam government were "bribed", vis-a-vis the Sterlite row.
Hitting out at the AIADMK regime, Stalin said he and his party colleagues went to the Secretariat on Thursday to lay siege to the chief minister's office.
"We were there to tell the chief minister to quit his office and go home and not to give any petitions," he said.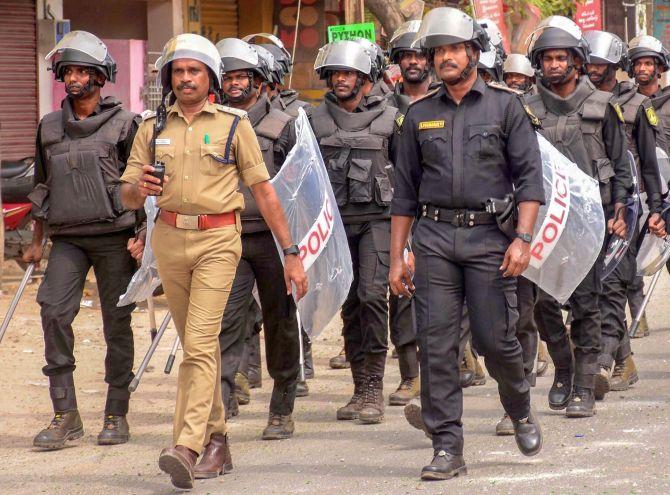 Violent protests erupted in Tuticorin on Tuesday as locals took to the streets demanding closure of a copper factory of the Vedanta group over pollution concerns.
The Leader of the Opposition in the assembly claimed that it was the protest led by him that goaded Chief Minister Palaniswami to break his silence on Thursday on the Tuticorin violence.
Referring to a case filed against him for defying prohibitory orders, Stalin said his partymen had faced several cases and were not afraid of going to jail for people's cause.
He demanded a probe by a sitting judge of the high court into the violence and said his party cannot agree on the inquiry by a retired judge (Aruna Jagadeesan) which the
government had announced on May 23.
A large number of cadres carrying placards against the violence participated in the demonstration.
Later, Stalin was removed from the spot along with his party workers by police and they were detained in a marriage hall.
At Chennai, former Chennai Mayor and DMK leader M Subramanian, party Rajya Sabha MP Kanimozhi, VCK chief Thirumavalavan, MMK leader M H Jawahirullah were detained after they staged a protest, police said.
Similar protests were held by DMK-led Opposition parties including the CPI-M and the CPI across the state.
All those detained would be released later in the day, police said.
Internet services, which were suspended in Kanyakumari and Tirunelveli districts on May 23, were restored in these districts on Friday, unconfirmed reports said.
Along with Tuticorin, internet and mobile data services in the two districts were suspended on May 23 to check rumours and provocative messages on social media.
Violent protests erupted in Tuticorin on May 22 and 23 as locals took to the streets demanding closure of Vedanta group's copper factory over pollution concerns and 13 were killed in police firing.
In a BSE filing, Vedanta said Tamil Nadu Pollution Control Board on May 23 ordered disconnection of electricity supply and closure of its copper smelter plant at Tuticorin
adding it was non-operational since March 27 this year.
The Madras high court on Friday issued notice to the CBI on a plea seeking a probe by the agency into the police firing.