'He will continue to fight against the BJP, Modi and RSS.'
M I Khan reports.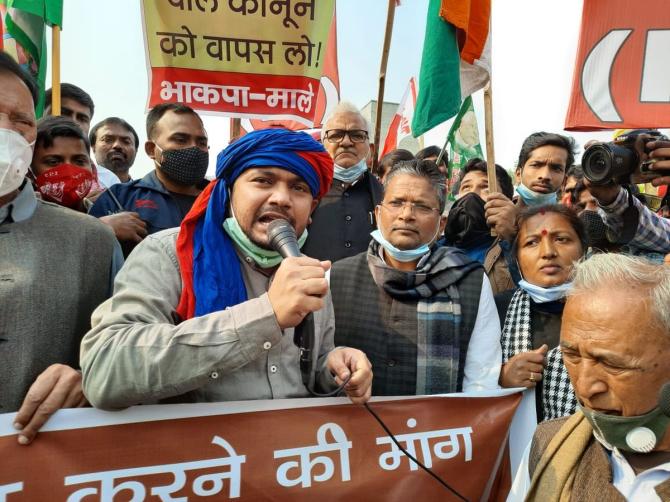 Soon after it came to light on Monday that Communist Party of India leader Kanhaiya Kumar met senior Janata Dal-United leader and Bihar Minister Ashok Choudhary at his residence in Patna, it surprised many and shocked a few.
The Bharatiya Janata Party -- which is part of the coalition government in Bihar -- was first off the blocks to express its reservations over Kanhaiya's meeting with Ashok Choudhary.
BJP spokesperson Prem Ranjan Patel demanded an apology from Kanhaiya Kumar for his statements against Prime Minister Narendra Damodardas Modi.
"It is for the JD-U to decide to induct anyone in the party, but it should take care of those who abused us," Patel said.
Other BJP leaders also questioned the meeting between Kanhaiya and Ashok Choudhary, who is seen as close to Chief Minister Nitish Kumar who is pursuing an agenda to bring non-BJP leaders into the JD-U fold to strengthen its base.
Choudhary, a former state Congress president, is known as Nitish Kumar's eyes and ears.
"Someone like Kanhaiya Kumar is a leader of the tukde-tukde gang, the JD-U should be aware of it. He cannot be useful as he only attacks and targets us," another BJP leader said.
Though Kanhaiya Kumar, a CPI firebrand, visited Choudhary on Sunday, February 14, photographs from the meeting went viral only the next day.
This development comes nearly 10 days after the CPI passed a censure motion against Kanhaiya Kumar for his unruly behaviour at the party's Patna office last year.
While it is reported that Kanhaiya Kumar is unhappy with his party, people close to him have dismissed such speculation and stories doing the rounds.
"Kanhaiya as part of the CPI delegation led by a party MLA met Nitish Kumar on February 13 for the development of Begusarai district," said a CPI youth leader who works with Kanhaiya.
"During the meeting," he added, "Nitish Kumar asked Ashok Choudhary, who was present there, to look into the demands of the delegation. After that Ashok Choudhary telephoned Kanhaiya and invited him to his residence for a meeting to discuss the issue in detail. That was all, nothing more to it."
Another senior Congress leader, considered very close to Kanhaiya, told this correspondent that there was nothing to the meeting, and that it was purely for some demands connected with developmental work in Begusarai, Kanhaiya's home district from where he unsuccessfully contested the 2019 Lok Sabha election that Kanhaiya met Choudhary.
"I can tell you with hundred percent confidence that Kanhaiya is not going anywhere, he is not joining any other party. Last week I shared a kisan mahapanchayat meeting with Kanhaiya in Purnea district and talked to him this morning, he will continue to fight against the BJP, Modi and RSS," the Congress leader said.
Congress leaders, who along with Kanhaiya, took out a state-wide yatra against the CAA-NRC last year, admitted that it was a mistake for the former Jawaharlal Nehru University students union president to meet Choudhary at his residence instead of at the office.
Interestingly, the CPI has officially not reacted yet to Kanhaiya meeting a state minister.
"No one believes that it was a simple meeting," says political observer Satyanarayan Madan. "Sooner or later things will become clear. Till date it was never expected of him to visit a senior JD-U leader and have photos of it widely circulated."