Back from incarceration, JNUSU president Kanhaiya Kumar on Thursday night delivered a fiery speech peppered with humour at the Jawaharlal Nehru University campus to target the Narendra Modi dispensation and the Sangh Parivar. Kanhaiya's address instantly led to huge clamour in the social media with people across the spectrum praising his words.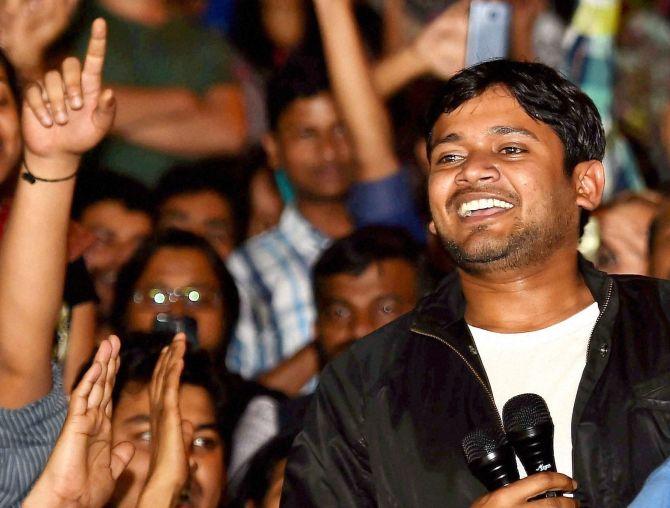 Here are some of the reactions to his speech:
Delhi Chief Minister Arvind Kejriwal: Heard Kanhaiya's speech many times. Amazing clarity of thought expressed wonderfully.He said wat most people have been feeling.God bless him
Former diplomat Nirupama Rao: Shows institutional strength of nation that #KanhaiyaKumar spoke freely, knowledgeable of developments and with his spirit and will strong.
Media and television personality Pritish Nandy: What a spunky victory speech by Kanhaiya Kumar at JNU! As long as our student community is so brave and fiercely free, India will be proud. All those who thought Kanhaiya Kumar and the JNU students were anti-nationals, must listen to him speak. This is the voice of the new India. Watch, Kanhaiya Kumar's inspiring speech will reverberate in campuses all over the world. This is the voice of #Azaadi. A leader is born!
Supreme Court lawyer Prashant Bhushan: Kanhaiya's brilliant speech on JNU homecoming. Azaadi from poverty, injustice & from those who loot & divide us. By his speech, Kanhaiya has put to shame corrupt & divisive parties&proved he is way above mainstream leaders in depth.
Congress leader Sanjay Jha: #KanhaiyaKumar is now like the legendary Che Guevara ; a young man who symbolizes a new young irrepressible India that believes in itself.
Congress leader Shashi Tharoor: BJP actions have created a new political star in Kanhaiya Kumar. He may yet revive the moribund CPI. Govt so foolish
Author Chetan Bhagat: You know PM is losing connect with the youth when a young student's speech from JNU is being talked about more than any Mann Ki Baat.
Businessman Harsh Goenka: I have an ideological difference with #KanhaiyaKumar but his speech was a lesson in eloquence- gritty, fiery, peppered with humor, sarcasm.
Here are some highlights of Kanhaiya's speech that lasted for nearly a hour. Read and Rate!
* Hum Bharat se azaadi nahin, Bharat mein azaadi chahte hain; Bhukmari se azaadi, bhrashtachar se azaadi... RSS se azadi, Manuvad se azaadi, jaativad se azaadi, hum le ke rahenge azaadi (freedom from starvation, freedom from corruption… freedom from the RSS, freedom from caste, freedom from communal thought, we will get our freedom).
* Ek BJP ke saansad ne kaha ki sipaahi shaheed hote hain seema par... Main poochhna chahta hun, kya woh unka bhai hai? Khet mein jo kisan hai woh uska beta hai. Aap uske liye kya karte hain? Woh mera bhai hai, mere pita hain (one MP had said soldiers are being martyred on the borders…. I want to ask, 'Is the soldier his brother?' The soldier is the son of the farmer who toils in the fields. What are you doing for the farmer? The soldier is my brother and the farmer is my father)
* Haalaaki hum Bharatiya log bhoolte jaldi hain, lekin is baar ka tamasha itna bada hua, ki bhool nahin payenge. (We Indians forget easily, but this time the show was so big a farce that no one will forget the slogans)
* Modiji Mann ki Baat karte hain, par sunte nahin hain. Meri ichchha hui TV mein ghus jaoon aur unse kahoon ki thoda Hitler ki baat bhi kar lo (Modi delivers his Mann Ki Baat but doesn't listen. I felt like getting inside the TV and telling Modi to talk about Hitler too)
* I have many differences with the prime minister but I agree with his tweet -- Satyameva Jayate (the truth shall triumph). I also say Satyameva Jayate because it belongs to the country and the Constitution.
* Bandh karna chahte hain tamam awazon ko, chahe seema pe khada ho, chahe khet mein, chahe JNU mein (they want to snuff out all the voices, whether they are on the borders of the country, whether in the farm fields, whether in JNU).
* "Don't think sedition is being used as a political tool against some students... These are tricks the government is playing to divert attention from its jumla."
* Iss desh ke 69% logon ne uss maansikta ke khilaaf vote diyaa hai. Keval 31% log. Aur usme se bhi kuch aapki jumlebaazi mein fass gaye. Kuch ko to aapne 'Har Har' keh ke jhak liya, aaj kal 'Arhar' se pareshaan hain. (69 per cent people of this country voted against their ideology. Only 31 per cent are those who were fooled by their 'Jumlebaazi'. You managed to trick people by raising the 'Har Har' slogan, but now you are troubled by 'Arhar')
* It is not easy to get admission in JNU; neither is it easy to silence those in JNU. We don't look at the ABVP as an enemy. In fact, we look at them like the Opposition. I will never do the witch-hunting of the ABVP because we believe that only those are hunted who are worthy of being hunted.
* Iss desh mein jan-virodhi sarkar hai. Uss sarkar ke khilaaf bolenge to inka cyber cell doctored video dikhayega (The present ruling dispensation at the Centre is anti-people. If you will speak against them, its cyber cell would come out with doctored video).