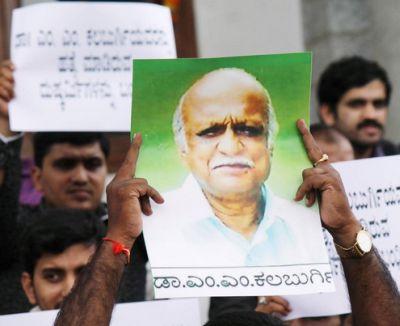 Four teams have been formed by police as part of its probe into the murder of noted Kannada progressive thinker and scholar M M Kalburgi, who was shot dead at his residence at Dharwad in north Karnataka on Sunday.
Hubballi-Dharwad Police Commissioner P H Rane told PTI, "Investigation is going on, we have formed four teams; teams will also be travelling to Maharashtra and other parts of the state as part of their probe."
The 77-year-old vocal and outspoken rationalist fell to the bullets of two unidentified men at the state's cultural capital of Dharwad that sent shock waves across the Kannada literary world and elsewhere in Karnataka.
Asked whether police are looking at any links with the murder of rationalist activists like Narendra Dabholkar and Govind Pansare in Maharashtra, Rane said, "We are verifying it seriously."
Anti-superstition crusader Dabholkar was shot dead in Pune on August 20, 2013, while Pansare, a prominent anti-toll activist and rationalist, was shot-at in Kolhapur on February 16 this year. He died in Mumbai on February 20.
The Karnataka government had on Monday decided to refer the Kalburgi murder case to CBI, and had said that CID will be investigating the case in the meanwhile.
After the dastardly murder of Kalburgi, police have provided security to some noted litterateurs, including Jnanpeeth award winner Girish Karnad and S L Byrappa and K S Bhagwan, who have often faced the anger of some groups for their views on different issues.
A local Bajrang Dal activist was arrested on Monday by Bantwal Police in Dakshina Kannada district for allegedly posting remarks on Twitter threatening writer K S Bhagwan for his alleged derogatory remarks on the Bhagavad Gita, but he was out on bail later.
Bajrang Dal co-convener Bhuvith Shetty's tweet targeting Bhagwan for making "fun" of Hinduism had gone viral after it was circulated through Whatsapp. He later deleted the post but screen shots of the tweet had already been circulated.
Bhagwan had drawn the wrath of right-wing activists after he allegedly disparaged the Bhagawad Gita while speaking at a programme in Mysuru in February this year.