Islamic State group jihadists claimed responsibility for twin explosions on Saturday that ripped through crowds of Shiite Hazaras in Kabul, killing at least 80 people and wounding 231 others in their first major attack in the Afghan capital.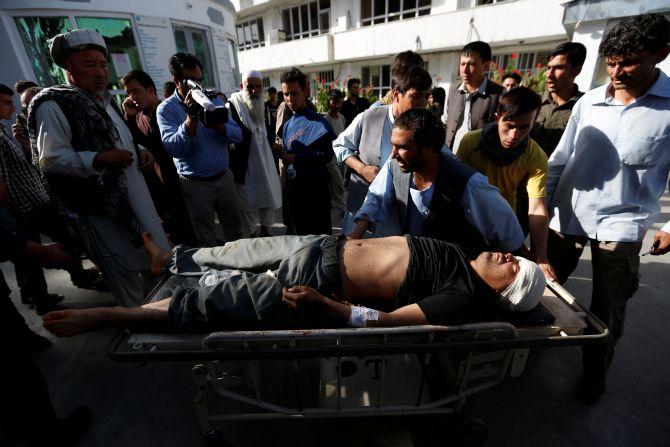 IMAGE: Men transport an injured person at a hospital after a suicide attack in Kabul, Afghanistan. Photograph: Mohammad Ismail/Reuters
The bombings, apparently aimed at sowing sectarian discord in a country well known for Shia-Sunni harmony, came as thousands of Hazaras gathered to protest over a multi-million-dollar power line.
Charred bodies and dismembered limbs littered the scene of the attack, with ambulances struggling to reach the site as authorities had overnight blocked key intersections with stacked shipping containers to control movement of the protesters.
IMAGE: A damaged truck was hit by the suicide attack is parked at the site of blast. Photograph: Omar Sobhani/Reuters
"As a result of the attack 80 people were martyred and 231 others were wounded," the interior ministry said in a statement.
Islamic State group's Aamaq news agency has claimed responsibility for the deadly bombing.
President Ashraf Ghani released a statement condemning the blast.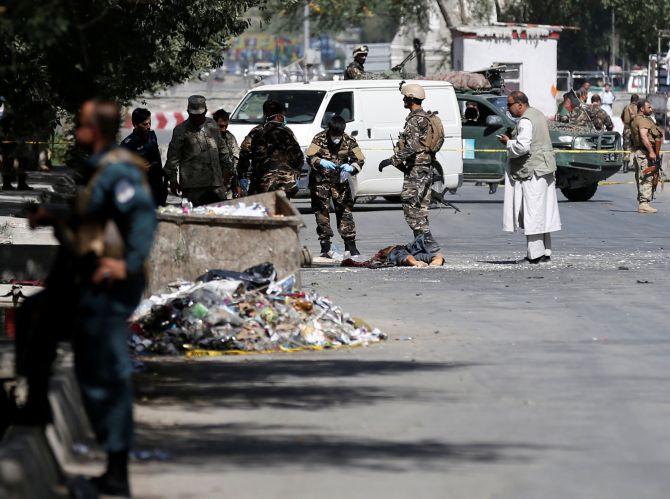 IMAGE: Afghan security force stand over a dead body. Photograph: Mohammad Ismail/Reuters
"Peaceful demonstrations are the right of every citizen of Afghanistan and the government will do everything it can to provide them with security," Ghani said.
"Based on initial information, the attack was carried out by three suicide bombers... The third attacker was gunned down by security forces."
The wounded overwhelmed city hospitals, officials said, with reports emerging of blood shortages and urgent appeals for donors circulating on social media.
IMAGE: An injured Afghan man talks on his phone after the suicide attack. Photograph: Omar Sobhani/Reuters
The Islamic State claimed the bombings in a statement carried by its affiliated Amaq news agency, calling it an attack on Shiites.
"Two fighters of the Islamic State detonated their explosive belts in a gathering of Shiites in... Kabul," Amaq said.
The attack came as thousands of demonstrators gathered to demand that a multi-million-dollar power line pass through their electricity-starved province of Bamiyan, one of the most deprived areas of Afghanistan with a large Hazara population.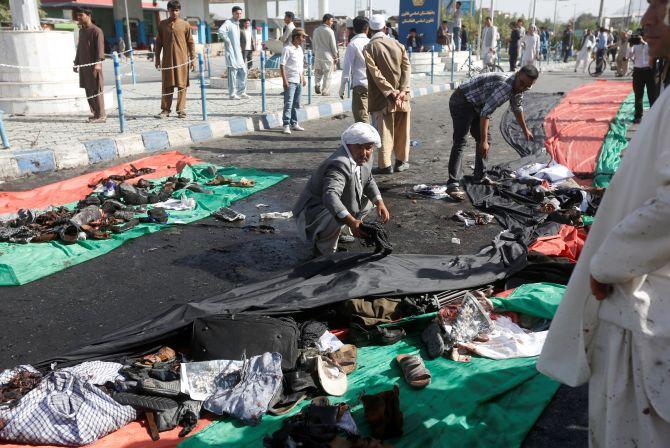 IMAGE: Afghan men remove the clothes of victims. Photograph: Omar Sobhani/Reuters
"The horrific attack on a group of peaceful protestors in Kabul demonstrates the utter disregard that armed groups have for human life," Amnesty International said in a statement.
"Such attacks are a reminder that the conflict in Afghanistan is not winding down, as some believe, but escalating, with consequences for the human rights situation in the country that should alarm us all."
In a statement, Afghan President Ashraf Ghani said he was "deeply saddened" by the carnage, adding that the casualties included security officials.
"Holding protests is the right of every citizen of Afghanistan... but terrorists entered the protests, and carried out explosions that martyred and wounded a number of citizens including members of security forces," the presidential palace said.The protest march was largely peaceful before the explosions struck as the demonstrators sought to march on the presidential palace, waving flags and chanting slogans such as "death to discrimination".