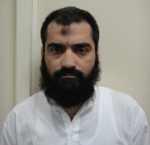 The Anti-Terrorism Squad of the Maharashtra police on Wednesday told the special Maharashtra Control of Organised Crime Act court in Mumbai that the Lashkar-e-Tayiba operative and a key 26/11 handler Sayed Zabiuddin Ansari alias Abu Jundal was involved in terror activities since as far back as 1996.
A draft charge, related to Aurangabad arms haul case and submitted to the court by the ATS, contains several counts under MCOCA, Unlawful Activities (Prevention) Act, Explosives Act, Explosives Substances Act and Indian Penal Code.
"During the period from 1996 to May 2006, both within and outside India, (he) conspired to do...illegal acts," said the draft, faxed by the Mumbai court to the Tihar Jail in Delhi, where Jundal is lodged. Jundal was produced in Mumbai court on Wednesday through a video-conference.
"Now Jundal will read the draft charge, sign it and send it back to the special court," said his lawyer Ejaz Naqvi.
Judge S M Modak was told by the prosecution that Jundal was not brought here, as because of the Republic Day preparations, there were no policemen to escort him.
Advocate Naqvi said that Jundal told him he did not want to come to Mumbai either, as he feared he might be killed in prison like the German Bakery blast accused Qatil Siddiqui, or executed like Ajmal Kasab.
Following the draft charge submitted by the ATS, the Mumbai court is likely to frame charges against Jundal on January 16.     
On May 8, 2006, a Maharashtra ATS team chased a Tata Sumo and an Indica car on Chandwad-Manmad highway near Aurangabad and arrested three terror suspects and seized 30 kg of RDX, 10 AK-47 assault rifles and 3,200 bullets.
The Indica was allegedly driven by Jundal, who managed to give police the slip and drove to Malegaon. In the same month he escaped to Bangladesh.