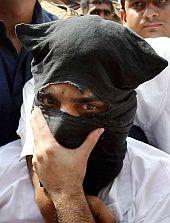 Vicky Nanjappa reports on how Lashkar-e-Tayiba operative Abu Jundal made use of the social media extensively to spread his hate campaign

The role of the social media being used by terrorists and their groups has often been spoken about. While the use of social media by terrorists continues to be on the rise, the case of Abu Jundal alias Zabiuddin Ansari shows the extent to which this medium is being used in the radicalisation process.
During the investigation conducted by the Delhi Police and also the National Investigation Agency, it was found that Jundal operated over 20 different accounts (Azam Khan, Singh is King, hameshaonline, due to revenge, rahilcool, lalshah, Sameer Hassan) to stay in touch with his friends through social media.

Investigations have found that he used services like Orkut, Facebook, Youtube and even blogging sites like Wordpress.com (fidaeemission) under various aliases.


While he had a large number of friends on these networking sites, the more interesting thing are the kind of messages that he posted.

All through he spoke about the importance of religion and how one needed to be a Muslim first and then a citizen of any country. Among his passions that were listed on these sites were religion, jihad and also toying with explosives.


Operating under the alias of Azam Khan, he interacted regularly while concealing his identity with like-minded people.

He had nearly 15 email accounts through which he contacted people and gave instructions on how to take to the path of jihad. Explaining at great lengths the importance of jihad, Jundal managed to recruit many youths.


An investigating officer told rediff.com that the sort of passions that he has listed on his sites was a teaser and acted as an attraction for several youth who sought to follow him. He was regular on these sites and had strong messages on them.

Messages such as 'Mohammad is our commander' and 'Allah our Lord', 'Quran the ultimate guide' and 'jihad should be our path' were his most common status updates.

Often through his messages, he explained the importance of both Khilafat and Shahdat.

In addition to this he had also posted photographs and videos through his Youtube account, which were clearly depictive of hatred. He claimed victory while posting burnt flags of India and urged on his followers to do the same.

He explained at length through his blogs why both India and the United States were enemies.


In all, Jundal had a follower base of close to 380 persons on all his networking sites. Some of the accounts that followed him were that of Indian Mujahideen operatives.

While the number is indicative of a very small base -- considering the number of accounts he held -- the worrisome factor was that his messages were being spread to others and his posts had become viral.


While these messages were loud and clear, the police are yet to access his emails through which he sent out messages with regards to planning and recruitment.

The police have not found much about the 26/11 attack and this is obvious considering that the ISI wanted it to remain under the wraps and not discussed on the Internet.

Jundal's most popular post was that on ways to practise Jihad. This was an entry on his Wordpress blog, fidaeemission. This blog entry was re-posted on various other accounts of his followers and very soon it had become very popular. More importantly, he had simplified the process by translating it from Urdu to Hindi, which was more understandable to the youth who sought to choose his path. The printouts of this post were circulated among the rural areas in India which went on to become a tool for recruitments.


It may be recalled that immediately after the 26/11 attack a group by the name Deccan Mujahideen had claimed responsibility for the attack. This was clearly a diversionary tactic. However, looking at Jundal's account it has been verified that it was he who chose this name. This name repeatedly crops up in a video posted by him on Youtube under the account of due to revenge.

The video depicts a camp in which training is imparted and he refers to the group being trained as the Deccan Mujahideen. Through this video Jundal aimed to send out a message about the importance of taking over Hyderabad and restoring the rule of the Nizam, which has been one of the primary agendas of the Lashkar-e-Tayiba.

The name of the Deccan Mujahideen once again crops up while he was instructing the attackers at the Nariman House. While the indoctrination of the youth at Hyderabad was primary on his agenda, he also sought to set up a full fledged force known as the Maharashtra Muslim Organisation through his Facebook account.

All the messages posted on his Facebook account under the name Sameer Hassan spoke about the setting up of a Muslim force in Maharashtra.
For the agencies this is a herculean task ahead. Cracking his email ids is just one of the tasks. It gives us a better understanding of how he operated, but we are still in the process of finding out more, an officer of the NIA said.

Security experts point out that Jundal is just one of the persons with so many accounts. Each one of these high profile operatives work in a similar manner and the kind of messages that they post on the internet end up becoming popular and viral is very less time.

The bigger worry for India, however, is that the police end up realizing things only at a later stage which means that while Jundal was on the job all these years, they had no clue as to what was happening.

Jundal began using the social media and the Internet in 2007 and continued actively until 2011 and all through the police had no idea as to what had been happening. Investigators are now closely monitoring his followers and would gradually begin to track each one of them and find out where the trail leads up to.