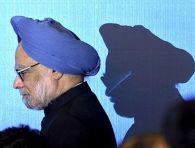 Amid opposition plans to corner the JPC Chairman over clean chit to Prime Minister Manmohan Singh, the much-talked about meeting of the panel to adopt the draft report on the 2G scam was on Thursday postponed following death of a Lok Sabha member.
JPC Chairman P C Chacko said that the new date would be announced indicating that it would be possible only next week as some members have expressed "inconvenience" if it is held Friday.
"The JPC meeting scheduled for today at 3 pm stands postponed. There is request from members from various parties that the meeting be postponed because of the demise of a sitting member (Ambika Banerjee)," Chacko told reporters outside Parliament House.
The JPC meeting to adopt the draft report was set to be a stormy affair with Opposition parties readying to corner Chacko over clean chit to the prime minister and Finance Minister P Chidambaram.
The non-Congress members in the 30-member JPC were expected to press for a vote on the controversial draft report, a demand which Chacko was ready to concede.
"In fact, I really wanted to have the meeting today and I was not able to proceed with that decision. Because courtesy demands and also it is a precedent," Chacko said.
He dismissed suggestions that the meeting was cancelled as Congress apprehended defeat in the panel over adoption of the report.
Soon after Chacko announced the postponement of the meeting, he attended a meeting of the Congress top brass including Manmohan Singh and Congress President Sonia Gandhi called in the wake of continuing stalemate in Parliament over the coal scam.
Opposition BJP is demanding the resignation of the prime minister and dismissal of Law Minister Ashwani Kumar in the coal scam issue.
After the Core Group meeting, Gandhi did not questions over the stalemate in Parliament when asked as to what was her message to the opposition.
Lok Sabha was adjourned today without transacting any business as a mark of respect for Trinamool Congress member Ambika Banerjee who died in a Kolkata hospital on Thursday.