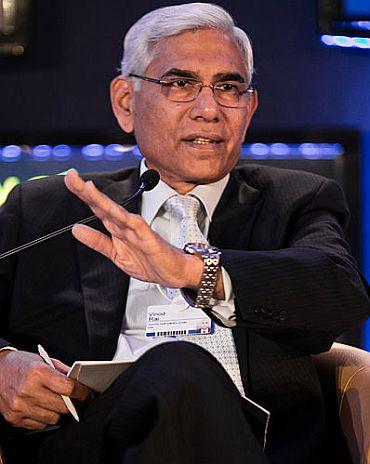 Vinod Rai, who demitted office as the Comptroller and Auditor General last month, will be remembered for turning the statutory body into a pugnacious watchdog of good governance and administrative integrity.
Rai's five-year tenure (2008-2013) had been a tad controversial because of the unprecedented public profile the CAG's office -- which the average Indian knew little about previously -- acquired and the political storms it generated, with many of the audit reports proving troublesome for the United Progressive Alliance government.
Rai's reports on the 2010 Commonwealth Games, allocation of licenses for 2G telecom spectrum and coal mining blocks, implicating the government for the massive corruption in these deals, severely dented the UPA 's image and provided ammunition to the Opposition.
Did Rai exceed his brief? Was he, as some in the government alleged, planning a post-retirement life in politics (which he had refuted many times)? Or did he strengthen the agency's constitutional mandate by refusing to toe the government line and maintaining a fierce independent streak?
To answer these and other questions, Vinod Rai will be on the Rediff Chat on Friday, June 7, 2013, at 12 noon IST to take your queries.