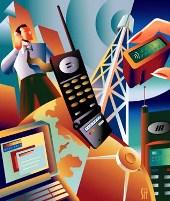 To end possibility of forming cartels in the telecom sector, new telecom licences are proposed to come with a clause that will bar service providers from holding either direct or indirect stake in other telecom companies providing services in the same area.
"Removing cross holding is required to break cartels among (telecom) companies. They (established players) are opposing new entrants," a senior government source said.
At present, telecom licence conditions allow a telecom operator to hold up to 10 per cent stake in other telecom services providers. "This (bar of cross holding norm) should go to Law Ministry for legal vetting within a week," the source added.
In a recent communication to DoT, Comptroller and Auditor General has alleged cartelisation by telecom players behind the failure of recent spectrum auction and pointed finger at the conduct of Airtel, Vodafone, Reliance Communications, Idea Cellular and Tata Teleservices in this regard.
On May 29, Reliance Communications wrote a letter to Telecom Minister Kapil Sibal in which it has opposed restraining companies from cross holding stake in other operators as it "will tantamount to closing operations of Reliance Telecom" -- a GSM arm of the company.
Vodafone also holds around 4 per cent stake in Bharti Airtel which is within the permissible limit. However, it is not clear whether the new clause will apply on mobile tower companies where there is no such restriction at present. Telecom operators jointly hold more than 10 per cent stake in mobile tower firm, IndusTowers.
In February, Bharti Airtel had said it was introducing a new business model for managing fixed line and DSL broadband networks, on the lines of IndusTowers.