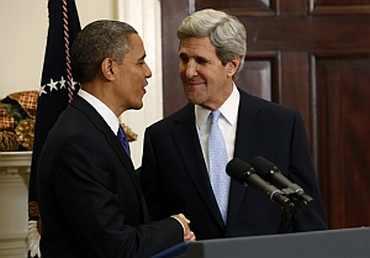 The United States senate on Tuesday approved Democratic Senator John Kerry as the next secretary of state, who is set to replace Hillary Clinton.

The senate confirmed Kerry's nomination in a 94-3 vote, hours after the chamber's foreign relations committee approved his nomination. Kerry has chaired the committee himself for the past four years.

"Senator Kerry will need no introduction to the world's political and military leaders and will begin Day One fully conversant not only with the intricacies of the US foreign policy, but able to act on a multitude of international stages," said Democratic Senator Bob Menendez at the Senate, who serves as the chairman of the senate foreign relations committee.

Senator Bob Corker, the top Republican on the same committee, praised Kerry's testimony on Thursday and called him "a realist" in dealing with world affairs.

At the senate foreign affairs committee earlier the day, Kerry appreciated the praises from his colleagues.

"I'm honoured beyond words,"
he said. "What a privilege to work with you and now to work with you in a different way. I thank you very, very much."
Kerry is expected to be sworn in this week, as Clinton will leave her job on Friday.
A senator from the state of Massachusetts, Kerry was nominated by US President Barack Obama on December 21 as the next chief diplomat of the United States.
Kerry offered support to Obama's re-elections, and acted in preparation for his debate with Mitt Romney, the president's Republican rival.
In the nomination ceremony at the White House, Obama highly valued Kerry's rich experience in foreign policy, saying, "Few individuals know as many presidents and prime ministers or grasp our foreign policies as firmly as John Kerry" and calling him the "perfect choice" to guide American diplomacy in the years ahead.
Kerry, 69, won a Silver Star, a Bronze Star and three Purple Hearts for his service in Vietnam from 1968 to 1969. After returning home, he became an anti-war hero.
Image: US President Barack Obama shakes hands with Secretary of State-designate John Kerry