A gunshot rang out at Constitution Club in the high security area near Parliament on Monday when an unidentified man targeted Jawaharlal Nehru University student leader Umar Khalid, who escaped unhurt, witnesses said.
The attacker dropped the weapon and fled the spot, police and witnesses said.
As confusion persisted over what had actually happened and how many people were involved, Ajay Chaudhary, joint commissioner of police, New Delhi range, said police were investigating whether shots were fired or not.
A case of attempt to murder was registered by the police later.
The incident has raised questions on the security cover in Lutyens' Delhi, just two days before the Independence Day with the police saying they were not "intimated" about the event in which Khalid was taking part in.
Another police officer, privy to the probe, said they have seized the weapon and preliminary forensic examination said that the pistol had jammed.
He said they are yet to ascertain whether shots were fired since no empty cartridges were found on the spot.
He said there were contradicting versions being given by the witnesses.
Some were the claiming that the accused had fired in the air and others were claiming that the shot was fired on the ground.
The ownership of the weapon could not be ascertained since it was an illegal country-made pistol.
Giving his version of what had happened, Khalid said he was going back inside the complex, which also houses the Mavlankar Auditorium and MP quarters on Rafi Marg, after having tea when somebody tried to fire at him.
"I was returning after having tea. One person came from behind, pushed me down and tried to fire at me. I ran for my life. He fled from there," Khalid told reporters.
He said he could not see the face of the attacker. Police said the attacker's face was not covered and they are trying to identify the attacker through CCTV footages from the spot.
"I do not know whether it was the handiwork of some group and if others accompanied the attacker. It's ironic that it happened as I have come to participate in an event against mob lynching. There is an atmosphere of fear. If you speak against the government you will be branded and then anything could happen to you," he said.
Some witnesses claimed two shots were fired when Khalid was at the entrance of the club, where he was going to attend a conference, 'Khauff Se Azaadi' (Freedom from Fear), organised by United Against Hate and featuring speakers such as lawyer Prashant Bhushan, Delhi University professor Apoorvanand and the late Rohith Vemula's mother Radhika Vemula.
"Khalid said he was attacked. Somebody pounced on him and tried to fire at him but the person could immediately not fire. People started chasing him. According to Khalid, he tried to fire in the air. CCTV is being examined to verify the incident," said Madhur Verma, deputy commissioner of police (New Delhi).
Narrating what had happened, Saifi, who was with Khalid, said they had gone to have tea and three people approached them.
"One of them got hold of Khalid which he resisted. There was a melee as a gunshot was heard. But Khalid was not injured. While the accused were fleeing, they fired one more shot," he told reporters at the spot.
Banojyotsna Lahiri, who was also there at the time, added that a man carrying a gun came from behind them and grappled with Khalid.
"There was a scuffle. He shot from the gun after which he fled," she said.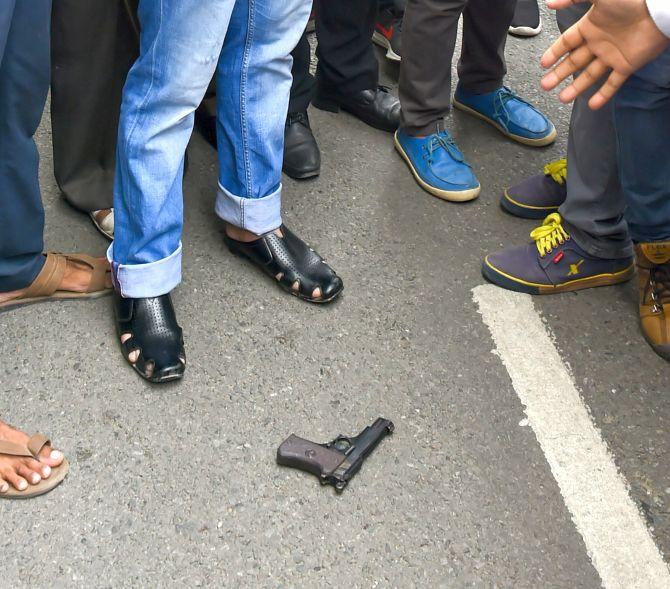 A shopkeeper, who has a shop opposite the venue, said he noticed two men fighting outside the Constitution Club.
"I saw them running towards the road and heard gunshot. I saw that they had left the gun before escaping. Later, people started gathering on the road after hearing the noise," he said. The incident, which took place around 2.30 pm, comes two days before Independence Day when the city is on security alert. Police said they were not intimated about the event and that is why no arrangements were put in place.
Politicians, student leaders and activists condemned the alleged attack saying the incident was the fallout of a "hate campaign" against him on social media and mainstream media.
JNU student leader Kanhaiya Kumar tweeted in Hindi and said, "What could be a bigger evidence of jungle raj in the country that the copies of the Constitution are burnt and Umar Khalid is fired at, close to the Parliament. The confidence of criminals has increased under the current government and media." The JNU Students' Union called the attack a "culmination of the hate-filled propaganda spewed by the Modi government" against him and against all those who have questioned this regime.
The student leader recently filed a complaint with the Delhi Police that he and Gujarat's Independent MLA Jignesh Mevani had received death threats from a man who identified himself as fugitive gangster Ravi Pujari in June. Khalid had said he was informed by Mevani about the threats, and had not received any call himself.
Khalid hit the headlines in 2016 when he and former JNU Students Union president Kanhaiya Kumar along with another student Anirban Bhattacharya were charged with sedition for allegedly raising anti-national slogans during an event on campus to protest the hanging of Parliament attack convict Afzal Guru. P
The Aam Aadmi Party slammed Delhi Police over the attack, saying it was a "major security breach" in the national capital before Independence Day.
The Bharatiya Janata Party, however, termed the incident as "dicey" and demanded a thorough probe into it by Delhi Police.
Senior Aam Aadmi Party leader and spokesperson Saurabh Bhardwaj alleged it was a "failure" of Delhi Police that was "busy" "framing" Chief Minister Arvind Kejriwal and other AAP ministers and legislators in false cases.
"It is a major security breach that an armed man attacked Umar and fired from a gun. Police should probe how a man carrying a gun attacks someone in Lutyens' Delhi where security arrangements are tightened in view of Independence Day," Bhardwaj said.
Senior BJP leader and New Delhi MP Meenakshi Lekhi demanded the police conduct a thorough probe into the incident.
During the incident, Lekhi was present at the Constitution Club to attend a party worker's meet held there.
"Police should conduct a thorough probe into this incident to expose those who are trying to create an atmosphere that anyone can be attacked like this manner," she told PTI.
The BJP MP said that there were certain things about the incident like no one was injured in the firing and that the gun was left behind by the attacker and also slogan shouting during the incident that need to be looked into by the police.
After learning about shooting, she went to enquire about the incident. She went into the hall at the club where senior Delhi Police officers were getting details of the incident from Khalid.
"I had gone to enquire about his wellbeing only," she said.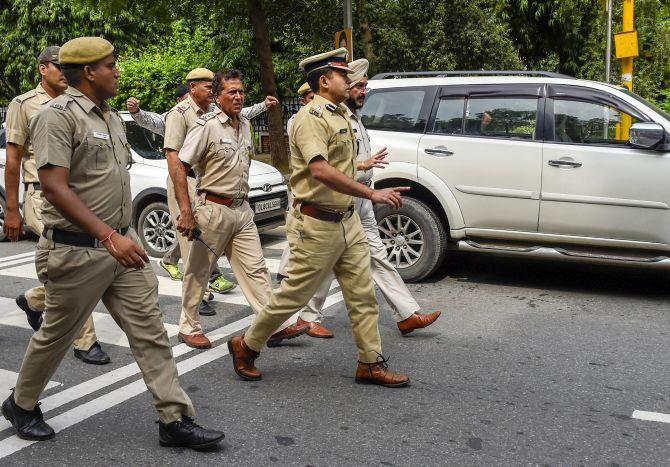 Former Jammu and Kashmir Chief Minister Omar Abdullah tweeted against the attack and said, "Wage a motivated hate campaign against individuals & sooner or later someone will feel emboldened enough to take the law into their own hands. The attack on @UmarKhalidJNU is the direct result of the relentless hate campaign using both social & mainstream media. Glad he's well."
Tagging the official Twitter handle of the Prime Minister's Office India, Dalit leader and Independent MLA from Gujarat Jignesh Mevani claimed that "last month when Khalid, Shehla Rashid and I had received death threats, we had sought police protection and even till today, none of us have been given any kind of security".
"Even those media groups, who are working to help BJP achieve political gains, and call Kanhaiya Kumar, Umar Khalid and Shehla Rashid as members of 'tukde tukde gang' and 'anti-nationals' are also to be blamed for the attack," he posted on Twitter.
JNU student leader Shehla Rashid shared the screenshot of a threat message she had allegedly received from one Ravi Poojary after the attack on Khalid.
"Meanwhile, got this death threat from right-wing Hindutvawadi fundamentalist Ravi Poojary. He warns Umar Khalid, Jignesh Mevani and me to shut up! Threat by SMS #DigitalIndia," she posted on Twitter.
The message shared by her read, "Just Shut Your Mouth Or we will Shut Your Mouth Forever. Tell Umar Khalid and Jignesh Mevani Also. MAFIA DON RAVI POOJARY."
She said the attack on Khalid was the "direct result of hatred whipped up by... and other hate media" and called it "shocking and condemnable".
Delhi University student Gurmehar Kaur opined it was time the online mob took to the streets against such incidents.
"I want to say I'm shocked and surprised but I'm not. It was only time the online mob came out on the streets. And God forbid something happens tomorrow to someone the blood will be on our hands for not condemning the hatred enough.
"Gauri Lankesh, Kalburgi, Shujaat Bhukhari and now an attack on @UmarKhalidJNU. History tells us that these are the warning signs before a perfectly normal, thriving nation turns into a battlefield. How are we still this ignorant and keep missing them?" she posted on the microblogging site.
Social activist Kavita Krishnan also blamed certain news channels for the "murderous violence" against Khalid.
"Shocking attempt to kill #UmarKhalid - ironically outside Construction Club in Delhi. The hate speech and fake news by news channels targeting him and others as 'anti national' directly results in such murderous violence," she wrote on Twitter.
Actress and JNU alumnus Swara Bhasker also posted on Twitter, "What are we becoming?!???!? A lawless anarchic state of affairs.. so damaging to our institutions and credibility at a responsible state. Even if you don't like Umar's views! #UmarKhalid."
Comedian Kunal Kamra posted on social media, "If this doesn't chill your spine what will? If you choose silence now when will you speak? If this is not wrong, what is wrong? In Solidarity."
Activist-lawyer Prashant Bushan accused the BJP government of creating an atmosphere of fear in the country and targeting those who speaks against the dispensation.
Speaking at the even 'Khauff se Azaadi', minutes after Khalid was allegedly attacked, Bhushan said, "This was done to create fear. So, that no one speaks or fights against the government."
"Individuals like Umar Khalid and Kanhaiya Kumar are being targeted and termed anti-nationals and Naxalite for speaking against the government. We are abused on social media, while women receive rape threats," he added.
Khalid was supposed to address the gathering at the Constitution Club near Parliament, but could not after the attack on him.
Terming the Bharatiya Janata Party government "fascist", Bhushan urged the people to fight against such tendencies.
"We can see symptoms of fascism in this government. People in power are addressing provocative speeches, trying to hamper communal harmony. Muslims are being termed terrorists. People in opposition are termed anti-nationals," the senior Supreme Court lawyer said.
He alleged that fake news were being spread and big media houses were brought under the government's control. "The government is even trying to change the electoral system," he added.
Raising concerns over the safety, former Rajya Sabha MP Anwar Ali said even Lutyens' Delhi was not safe anymore.
"Today, Umar Khalid was attacked right here at the Constitution Club. This could have happened with anyone of us anywhere," he said, adding that the word mob-lynching had become a small issue now.
"The issue of mob lynching should not be made an issue of Muslim. Those currently in power term every Muslim a terrorist and Dalits as Naxalite. There's an political and ideological battle," he said.
Rajya Sabha MP Manoj Jha, who was also at the event, added that living in fear was also a form of mob-lynching and urged people to fight against the government.